Do you know what Beansearching.com is?
Beansearching.com is currently down, but your browsers might remain hijacked. Even if this hijacker works as a search tool when you are reading this report, you should not trust it at all. According to our research, this hijacker might expose you to links that only seem to be associated with the information you are looking for. Due to this, we strongly recommend against any kind of interaction with the links shown. If you find that Beansearching.com shows ads even when you do not browse the web, you have one more good reason to delete this hijacker. Continue reading this report, and you will learn a few different removal methods that can help you remove Beansearching.com.
The distribution of browser hijackers always involves illegal, malicious elements. If Beansearching.com was installed with your knowledge, there is no reason to identify it as a hijacker, but that does not change the fact that this search tool requires immediate removal. Of course, users who find this threat installed illegally will recognize it as a threat much easier because authentic and reliable software does NOT enter without your permission. If you keep this in mind, you should realize that you need to delete Beansearching.com the moment it takes over your browsers. If you need a second opinion when it comes to strange, unfamiliar programs, use a malware scanner, and you will know if or not you need to delete them.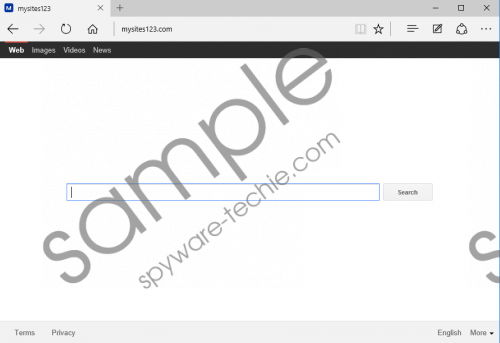 Beansearching.com screenshot
Scroll down for full removal instructions
We have found that Beansearching.com can change the homepage, as well as replace the default search provider on such widely used browsers as Google Chrome, Mozilla Firefox, and Internet Explorer. There is no question why it is these browsers that are targeted by most hijackers, considering that they are used by most people. Of course, Internet Explorer is no longer as popular with the creators of malware because it was replaced by Microsoft Edge with the coming of Windows 10. Fortunately, Beansearching.com was not found on Edge yet. In either case, whichever browser gets hit, you need to remove Beansearching.com before it introduces you to unreliable content or starts leaking information about your activity.
Can you change the homepage on your browsers? If you can, go ahead and do that, as this is the main step to delete Beansearching.com from your operating system. Afterward, we advise employing a security tool you can trust, such as SpyHunter, to possibly remove Beansearching.com leftovers and other strange programs that might have been bundled with it. If you also want to keep your security software protected from malware and schemers' attacks in the future, this is the software you need to install.
Remove Beansearching.com from Windows
Remove from Google Chrome
Tap Alt+T and select Settings.
Navigate to the On Startup menu.
Select Open a specific page or set of pages.
Click Set pages.
Overwrite/delete the homepage URL.
Remove from Internet Explorer
Tap Alt+T and select Internet options.
Click the General tab and go to Home Page.
Overwrite/delete the homepage URL.
Remove from Mozilla Firefox
Tap Alt+T and select Options.
Move to the left and click General.
Overwrite/delete the Home Page URL.
In non-techie terms:
Do you have a reason to keep Beansearching.com installed? We are sure that you do not because this browser hijacker is completely unreliable and useless. We can guarantee that you will face more security risks than benefits if you continue using it. The removal of Beansearching.com cannot be simpler. All you need to do is change the homepage, and, with our instructions, you will be able to replace this unwanted homepage option with the preferred one using a few simple steps.