Do you know what Bazzsearch.com is?
Bazzsearch.com is a questionable browser extension that can show up in your Google Chrome browser and change your default search engine. It is also possible that this tool can set a task to launch Chrome.exe and load itself as the home page. Our researchers have classified this application as a browser hijacker because of certain traits it showed during careful testing. Since this hijacker uses redirects, you may not even notice that this search engine is involved. In any case, you should not use unfamiliar search engines for web search since they may provide you with manipulated results even when you think you land on a reputable search engine page, such as Yahoo and Google. Since there are certain risks involved when you click on unsafe web content, we suggest that you remove Bazzsearch.com right away to stay on the safe side.
Although there is an official channel to install this extension through, the Chrome web store ("chrome.google.com/webstore/detail/bazz-search/pinhfkamckbogjgmbmdkdebbbpnmlaef"), you should be careful anytime you set out to do so. There is always a pop-up window that is important to read carefully to know that exactly what you are saying "yes" to. In this case, for example, you allow this application to "read and change your browsing history, change your search settings to feed.bazzsearch.com, and know your e-mail address." Do you not feel a bit like these rights could be exploited? Well, over 55 thousand users did not think so and seem to have installed this tool via the store. Most people do not even read this pop-up and rush to click on the "Add extension" button. They may not even realize that their default search engine will change and will come as a surprise. What we find quite strange is that if so many users have installed this tool, why are there no reviews and ratings?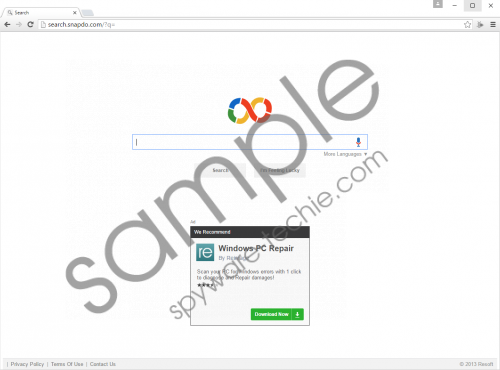 Bazzsearch.com screenshot
Scroll down for full removal instructions
Of course, we are sure that this browser hijacker is mainly spread through freeware bundles containing other malware infections as well. This is the most frequent method for criminals to distribute browser hijackers, adware applications, and potentially unwanted programs as well. So do not be surprised to find some of these infections on board if Bazzsearch.com has found a way to your system. Users usually download such malicious bundles when their computer is infected with adware and that generates corrupt third-party ads that the users click on. Or, when they visit suspicious file-sharing websites and they click on similarly shady content, such as advertising. All in all, if you find this browser hijacker in your Chrome browser, you need to check if there are any other infections on board. If you only remove Bazzsearch.com, your computer may still remain infected with other malware threats.
This browser hijacker is rather confusing. Once you install it, it sets your default search engine to point to feed.bazzsearch.com. This search engine redirects to search.snapdo.com/?q= (Snap.do), which is another unreliable search engine, most probably created by the same team. Our researchers also have noticed that this browser hijacker can create a task to open Chrome.exe with Bazzsearch.com as the home page. Although this tool promises you a great and fast search on the web, you end up redirected to a search.yahoo.com (Safe Finder) results page that may well be modified by this hijacker. The same happens when you try to search through the address bar in your Google Chrome browser, i.e., your query gets redirected to search.yahoo.com. You may think that it is safe to click on any content on this page just because it is a reputable search engine; however, we must remind you that you just came here through an unreliable hijacker.
This means that the search results you are presented to, either you land on this Safe Finder page or the search.snapdo.com page, can be modified to contain promoted affiliated third parties through ads and links. If you click on such content, you may be taken to malicious websites and that can end pretty badly for you. You can lose your money, get your bank account drained, or simply infect your PC with more malicious threats. We do not think that this is your goal; therefore, we recommend that you remove Bazzsearch.com immediately.
If you click on the Bazzsearch.com icon on the top-right corner, you can actually choose from its own menu to remove this extension. But be careful with that because you will get redirected to this page: "pixel.bazzsearch.com/Pixel.aspx?name=bazzsearchds&type=uninstall&data1=pinhfkamckbogjgmbmdkdebbbpnmlaef&entity=26&co=LT&barcode=51206003&userid=a98cfbcb-7683-41ea-a142-552ee315acb4&data2=&data3=." This page clearly contains a 1 by 1 pixel image that might be used for suspicious reasons, such as gathering information and so on. We suggest that you reset your Google Chrome browser in order to make sure that all unwanted extensions and setting changes will be undone. Please follow our instructions if you need help with this. If you want decent protection for your computer, we advise you to invest in a reputable anti-malware application that will safeguard your PC from all existing malware infections if you keep it regularly updated.
Remove Bazzsearch.com from your browser
Google Chrome
Tap Alt+F and go to Settings.
At the bottom, click Show advanced settings.
At the bottom, click Reset settings.
In the pop-up, press Reset.
In non-techie terms:
Bazzsearch.com is an unreliable search engine that is promoted as a Google Chrome browser extension and getting more and more popular. However, our researchers have found that this is indeed a browser hijacker that can change your default search setting and through redirections it may introduce you to unreliable search results. Since this tool is all about generating money through promoting third parties, it is not that difficult to imagine that you will be exposed to sponsored ads and links integrated among the normal results. Clicking on such content could be rather detrimental to your system security. We suggest that you delete Bazzsearch.com from your browser and check if there are any other infections on board if you want to use a safe computer. If you would like to protect your PC from similar and more severe malware attacks, you should employ a trustworthy malware removal application.