Do you know what Barnyard Deals are?
Barnyard Deals is a free browser add-on which provides computer users with advertisements of different types, including web banner, special offers, pop-ups, and pop-unders. The browser plug-in is available at barnyarddeals.com and is compatible with Internet Explorer, Google Chrome, and Mozilla Firefox. Barnyard Deals is developed by Smart Apps, and it is important to note that the developer of the program is referred to as Appealing Apps, Engaging Apps, 215 Apps, and so on. This browser add-on can be distributed by bundled installers; hence, it is highly advisable to pay close attention to the information provided by the installation wizard. Barnyard Deals is categorized as adware because of its obtrusive advertisements and can be removed from the computer by reputable and powerful spyware removal tools, one of which is SpyHunter.
Once installed, Barnyard Deals modifies the Windows hosts file by adding the line 54.221.22.25 emaaffabedhbmafgclglcbgiplbolbdd. The digits indicate the IP address of the server to which the adware program connects to download the latest updates. The changes within the hosts file are made by BenchUpdater, which is an adware updater installed along with Barnyard Deals.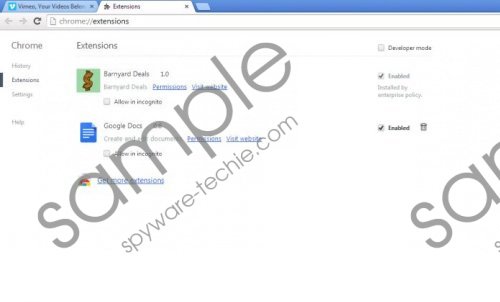 Barnyard Deals screenshot
Scroll down for full removal instructions
The advertisements of the Barnyard Deals browser add-on can be displayed on YouTube, Amazon, eBay, and many other websites. Some of the pop-ups may contain the label "Ads by Barnyard Deals", but it does not mean that the developer of the adware program owns all those advertisements. Barnyard Deals is an ad-supported program which uses third-party advertising companies to provide you with various advertisements. Pop-ups are known to be sent to your computer from contentcache-a.akamaihd.net, p.txtsrving.info, and i.txtsrving.info.
Barnyard Deals does not endorse the websites advertised and it accepts no responsibility for the content of the offers and the quality of the services advertised. You will find web banners inviting you to update your media players, Internet browsers, and some other applications. Moreover, you may be offered a chance to win some mobile device. If you do care about your privacy, you should disregard such offers because they are likely to take you to scam websites. Download software and provide personal information about yourself only when you are certain that you can trust the service provider. If you do not want to lose your personal information, you should remove Barnyard Deals from the computer as soon as you can.
We recommend that you remove Barnyard Deals using a spyware removal program because your hosts file needs to be edited. Moreover, the adware program uses browser cookies to monitor, so, if you want to fully get rid of Barnyard Deals, do not hesitate to implement a reputable security tool. Our advice is to use SpyHunter because it can readily detect and remove Barnyard Deals and, without a doubt, safeguard the system against multiple computer threats, including Trojan horses, rogue anti-virus programs, browser hijackers, and many other unreliable programs.
How to get rid of Barnyard Deals
Windows Vista and Windows 7
Click Start.
Select Control Panel.
Click Add or Remove Programs.
Remove the Barnyard Deals program.
Windows XP
Click Start.
Select Control Panel.
Click Add or Remove Programs.
Uninstall the adware program.
Windows 8
Press Win+R and enter control panel.
Click OK.
Press Uninstall a program.
Remove the adware program.
How to edit the Hosts file
Open the Start menu.
Click All Programs and click Accessories.
Right-click Notepad and click Run as administrator.
Click Continue.
When Notepad opens, click File and select the Open option.
In the Filename field, type C:\Windows\System32\Drivers\etc\hosts and click Open.
Delete 54.221.22.25 emaaffabedhbmafgclglcbgiplbolbdd and save changes.
In non-techie terms:
Barnyard Deals is an adware program which modified the host file and displays various web banners and pop-up advertisements on commercial and non-commercial websites. If you want to get rid of Barnyard Deals, use the above-given removal guide or implement a spyware removal tool. In case you find some difficulties with the installation of the recommended spyware and malware prevention program, use the following instructions.