Do you know what Bargains is?
Bargains is an adware application that provides links to third-party websites, but it neither reviews these sites nor takes any responsibility if you receive harm from such content. Also, the application might promote web pages of similar adware programs or other unreliable software that could bring you even more potentially harmful third-party content. If you want to get rid of these sponsored links, you could follow the removal instructions below and erase the adware. As long as it is installed, the application will gather your anonymous data and use it for marketing purposes. Therefore, it is crucial to avoid any ads from Bargains until it is completely deleted from your system.
Apparently, it is impossible to download the program from bargains-ex.space/lp/index-extlp.html site, which seems to be its official web page. When you click the download button, the words "click add extension" appears, but right after that you get redirected to one of the third-party e-shops. The extension works only on the Google Chrome browser, but it is not available on the Chrome Web Store. That is why it is more likely that the adware enters users' computers bundled with other software. You may have installed it with other application if it had Bargains suggested in its setup wizard. Often, bundled installers are downloaded from questionable file-sharing sites. Needless to say that if you want to avoid adware and other suspicious software in the future, you should download programs only from reliable sources.
Once you have the extension, you will see pop-ups titled as "Ad by Bargains" on various websites. If you visit some online shop, these ads might show you products similar to the ones you recently reviewed there. The application might gather your search keywords, records of clicked ads, and so on. That is how it decided what products or services should look attractive to you. The extension's Privacy Policy states that "non-personally identifiable visitor information may be provided to other parties for marketing, advertising, or other uses." Those other parties are probably third-party partners that provide the entire advertising content. Naturally, the adware disclaims any responsibility for these sites, so when you interact with the displayed third-party ads, you solely take all the risks.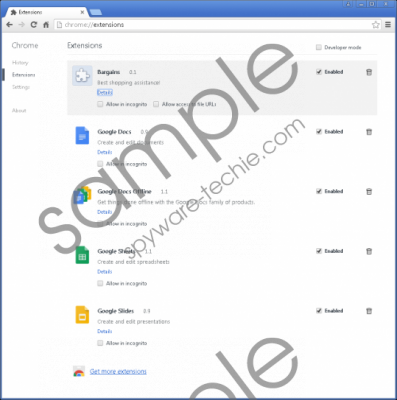 Bargains screenshot
Scroll down for full removal instructions
Even though the adware's creators guarantee that they do not display harmful content on their website or do not collect users' private information, they cannot be sure if third-party sites will have the same terms of use or Privacy Policy statements. You might be redirected to such sites if you click the ads displayed by the program. Third-party websites could be full of malware, such as viruses, Trojans, and so on. If your system is not protected with an antimalware tool, it could get infected when you land on malicious web pages. Our researchers noticed that some of the coupons redirect users to similardeals.net or fr.foxydeal.com. FoxyDeal is a very similar adware application that also shows unreliable third-party advertisements. This is only one example because the application might promote different adware or software like browser hijackers, potentially unwanted programs, etc.
The application does not seem reliable, and we doubt that you will benefit from its commercial advertisements or other offers. If you are already annoyed by the Bargains's advertisements, you can remove the extension from your browser and get rid of the ads. The application creates a folder with a title of random letters in the Google Chrome's folder on your system. If you delete this folder, you will erase Bargains from your browser. More accurate manual removal instructions await you below this text. Also, we should mention that the adware can be removed with a legitimate antimalware tool that you should install. With a little of your help, a trustworthy security tool should locate the adware and delete it automatically.
Delete Bargains
Press Windows Key+E to open the Explorer.
Copy and insert given location: C:\Users\user\AppData\Local\Google\Chrome\User Data\Default\Extensions
Find folder with this title ojnpjadapidgjcdkmcehlcajhcckagjp
Right-click the folder and click Delete.
In non-techie terms:
In other words, the application is a useless tool that disturbs your browsing with annoying ads, coupons, and so on. Clicking such content might be a bad idea because it could lead you to potentially harmful websites. Luckily, you can avoid such risk if you remove the extension from your browser. Manual removal instructions are available above this text, but you can also erase it with a security tool.