Do you know what BadBlock Ransomware is?
If you see a red window on your screen with a title "BadBlock is on the block," unfortunately, your computer has been hit by BadBlock Ransomware. This Trojan ransomware is a major blow to your virtual world since most of your pictures, videos, and documents can get encrypted with an algorithm that is virtually unbreakable. Such a vicious attack against your privacy and your computer can have devastating effects if you do not have backup copies of your files preferably on an external HDD or a pen drive. Many users tend to use online cloud storage places nowadays, but we must warn you that certain ransomware threats can actually access those accounts just like all mapped network drives through your machine and encrypt all the targeted files there, too. This whole attack is obviously all about extorting money from you in return for the decryption of your files. You should know that criminals rarely bother to give you the decryption key or decrypt your files through their malicious application. If you plan to transfer the fee you should keep this infection active until you figure out whether you have been scammed or your files really get decrypted. Otherwise, you should remove BadBlock Ransomware right now if you want to protect your PC and your new files.
Our researchers have found that this Trojan ransomware is mostly distributed over the net in spam e-mails. These e-mails are always rather misleading and contain an attached file, such as an image, video, or text document file. Most of the time opening such a spam mail is not enough for such a Trojan to drop its payload; however, you should know that there are actually spam mails that can run malicious scripts the moment you click on them and they can drop infections onto your system. But in this case you need to download the infectious file and execute it yourself to activate this dangerous infection. This is also why it is possible to avoid infections like BadBlock Ransomware since all you need to do is be more careful and selective about which mails you open and which attachments you download. If you do not delete BadBlock Ransomware right now, there is a chance that it will encrypt the newly created files as well, which means that you cannot use your computer safely or at all.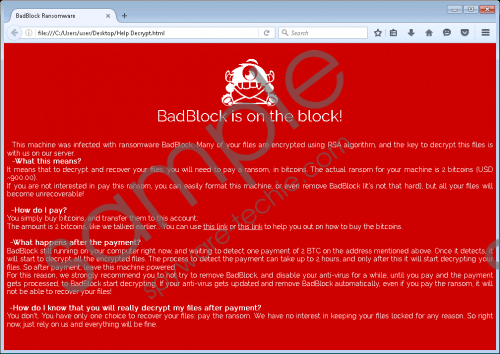 BadBlock Ransomware screenshot
Scroll down for full removal instructions
When you are misled to download and run this infection, it will work in the background without your knowledge and it does it with great speed, too. It is possible that the whole encryption process ends within one single minute. How is that possible? Well, BadBlock Ransomware uses the RSA algorithm that is part of the Windows operating system, which makes it very fast depending on your PC's performance and the number of targeted files, of course. Nevertheless, it is virtually impossible to catch this infection in the act and stop it. Our researchers have found that this ransomware targets the following file extensions: .accda, .accdb, .accdc, .accde, .accdp, .accdt, .accdu, .ashx, .aspx, .cert, .class, .docm, .docx, .dotm, .dotx, .gdoc, .html, .jpeg, .json, .laccdb, .ldif, .mpeg, .opml, .potx, .ppsx, .pptm, .pptx, .prproj, .save, .sqlite, .webm, .xlsm, .xlsx, and might also encrypt other popular document and picture files. As you can see, your program files, pictures, videos, and documents can be encrypted and lost forever if you are that unlucky.
When the encryption is done, you are informed by a frightening red window that contains the ransom note. You cannot close this window and it is set to always remain on top of all your active windows. However, it is possible to move it out of the way. You are supposed to pay 2 BTC, which is around 900 USD, if you want these criminals to decrypt your files. As a matter of fact, these crooks even tell you that you can format your HDD or remove BadBlock Ransomware if you do not want to see your files again. They claim that it is not difficult to delete the infection, which is actually true and you will shortly see yourself. This ransom note also contains information about how you can buy and transfer Bitcoins, which is usually not common knowledge. This warning window also tells you that you should deactivate your anti-virus software and not remove BadBlock Ransomware because if you transfer the money and the program gets clean from your system in the meantime, you will still lose the possibility to decrypt your files. We have found that this ransomware does not block any programs from running; therefore, it is really not too complicated to eliminate it.
The best way to protect yourself against ransomware attacks is to keep a backup copy of your most important files on a separate, removable drive. This way you can always copy them back onto your PC if anything goes wrong. Of course, you should only do this, after you make sure that there is no infection or threat on your computer anymore. If you want to remove BadBlock Ransomware, all you need to do is locate the folder the malicious file creates (%ALLUSERSPROFILE%\Network Prosoft) and bin it along with the downloaded file. If you need powerful protection for your PC, we suggest that you download and install a decent anti-malware application, such as SpyHunter.
Remove BadBlock Ransomware from Windows
Press Win+E to start File Explorer.
Locate and delete %ALLUSERSPROFILE%\Network Prosoft folder.
Locate and remove the downloaded malicious file.
Empty your Recycle Bin.
Restart your computer.
In non-techie terms:
BadBlock Ransomware means a serious security issue if it infiltrates your operating system. This Trojan ransomware can encrypt your major files with RSA algorithm that is impossible to decipher without the private key that is kept by the criminals who are behind this vicious attack. In order to recover your files, you are supposed to pay 2 BTC. However, there is no guarantee whatsoever that these criminals keep their word at all. This is quite risky to pay almost 900 USD for your files. You should consider first if they are worth this fee at all. But we would like to warn you to be careful because even if you pay, you may not be able to use your files again. We believe that you should remove BadBlock Ransomware right away if you want to save yourself from more headaches. If you have a copy of your files on an external drive, you can easily transfer them back onto your machine once it is all clean. We advise you to use a reliable malware removal tool to detect and eliminate all possible threat sources and to keep your PC protected.