Do you know what .backup Ransomware is?
Judging from the name, you can probably easily tell that this program holds your computer hostage, expecting you to pay a ransom fee. It is the most common type of malware infections nowadays, and we cannot stress enough how important it is to go through your inbox carefully. Removing .backup Ransomware from your system is not enough to retrieve the data this infection has blocked, so it is a lot better to avoid the infection in the first place than to deal with it first-hand.
In order to avoid getting infected with .backup Ransomware, one has to take into consideration all the potential distribution routes. We know for sure that this program belongs to the Cryptomix Ransomware family, and there are multiple versions of this program out there. Each version may spread in a different fashion, but so far we have found that it can be distributed via malicious spam attachments, exploit kits, and corrupted links that are embedded on hacked domains. In other words, this ransomware family is making use of the most popular distribution methods.
Therefore, first, you need to be careful about the emails that you open every single day. Most of the time, we know who sends those emails, but sometimes a spam or phishing email could get through into our main inbox, and it might also look like a legitimate notification from some company or even a bank. So if you see that the message urges you to open the file or click a particular link, you will do yourself a favor if before opening the file, you will scan it with a security tool of your choice. The security tool will definitely detect whether the file is dangerous or not.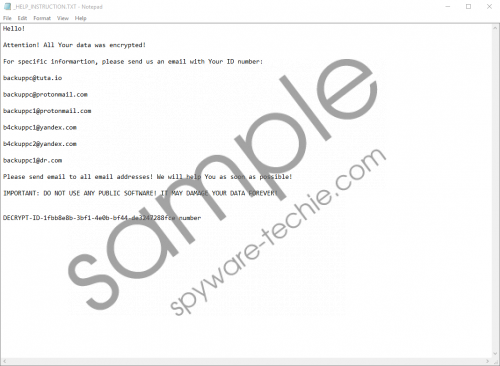 .backup Ransomware screenshot
Scroll down for full removal instructions
Also, you should refrain from clicking links on unfamiliar websites. If you see that a page has a lot of advertisements, and they pop up into your screen the moment you click something on the said site, that is the first sign that there might be corrupted links on that page, and you should consider closing it immediately.
However, what happens if these measures do not work and .backup Ransomware still enters your computer? Well, the answer is pretty straightforward. The program scans your system looking for the files it can encrypt and then it launches its encryption algorithm. Although most of the encrypting ransomware programs tend to target specific folders, our research suggests that .backup Ransomware encrypts all the personal files on the disk. Therefore, once the encryption is complete, you will no longer be able to open your files.
What's more, .backup Ransomware also creates a Point of Execution in the Registry, so it means that the program will auto start with Windows every single time you turn on your computer. Thus, transferring files into your system while the ransomware is still installed on your PC might result in further encryption. On the other hand, it does not mean that you should follow the instructions in the ransom note either:
Hello!
Attention! All Your data was encrypted!
For specific information, please send us an email with Your ID number:
backuppc@tuta.io
backuppc@protonmail.com
backuppc1@protonmail.com
b4ckuppc1@yandex.com
b4ckuppc2@yandex.com
backuppc1@dr.com
Please send email to all email addresses! We will help You as soon as possible!
IMPORTANT: DO NOT USE ANY PUBLIC SOFTWARE! IT MAY DAMAGE YOUR DATA FOREVER!
As you can see, .backup Ransomware doesn't even let you know how much you are supposed to pay for the decryption key. It just gives you a bunch of email addresses you should use to contact the criminals. The sheer number of email addresses implies that the program's servers are shaky, and they might go down any minute. At the same time, it also means that if the servers are down, you would not get the decryption key even if you were to transfer the payment.
Therefore, your best option right now is to remove .backup Ransomware following the manual removal instructions below. If you do not want to deal with this on your own, get yourself a powerful security tool that will remove .backup Ransomware for you automatically.
As far as your files are concerned, you may have to consider the possibility that you might need to remove the encrypted files for good. However, the main objective right now is to get rid of this infection.
How to Remove .backup Ransomware
Press Ctrl+Shift+Esc to open Task Manager.
Open the Processes tab and click on suspicious processes.
Press the End Process button to close those processes.
Remove unfamiliar files from your Desktop and Downloads folder.
Press Win+R the Run prompt will open.
Type %TEMP% into the Open box and click OK.
Delete unfamiliar files from the opened directory.
Press Win+R and enter %ALLUSERSPROFILE%. Press OK.
Delete the random-named executable file and press Win+R.
Type regedit and click the OK button.
Open HKEY_CURRENT_USER\SOFTWARE\Microsoft\CurrentVersion\Run.
Right-click the 00FF0EBC2F2 value on the right side and select to delete it.
Close Registry Editor and scan your computer with a security tool.
In non-techie terms:
.backup Ransomware is a dangerous computer infection that will lock up your files. It might feel daunting to deal with this infection, but you can always refer to a professional who will assist you in removing .backup Ransomware from your system. You should also protect your system from other intruders by acquiring a reliable antispyware tool. Also, please employ safe web browsing habits that will decrease the possibility of malware infection significantly.