Do you know what Ayoora is?
Ayoora is introduced as a helpful search assistant, but our research team has found that it is just another unreliable, unpredictable, advertisement-supported program. This program does not promote the same services that LookaDeal or Search Armor do, but all of these programs were developed using the same framework, and they all belong to the Lyrics family. Although these programs might offer attractive services, our research team suggests removing them all. These ad-supported programs have a hidden agenda, which is to introduce you to as many online ads as possible because this is the only way for their developers to earn money. Unfortunately, these ads might be misleading, which is our primary reason for removing Ayoora. Learn how to get rid of it by reading this report.
In order to provide you with the most attractive advertisements, Ayoora will find your location, the browser you use, your default search provider, and even your antimalware software. On top of that, it will record your browsing history. If you choose to delete Ayoora cookies to stop the collection of non-personally identifiable information, this ad-supported program is unlikely to offer you any authentic and beneficial services. Even with the cookies active, the ads shown to you could have a misleading offer and hide a completely worthless offer underneath. Of course, the worst part about this data collection is that the information collected could be shared with undisclosed "business partners," "affiliated companies," and "authority." We believe that Ayoora is untrustworthy and requires removal because it works with undisclosed parties. If you want to learn more about this, check the Privacy Policy at ayoora.com.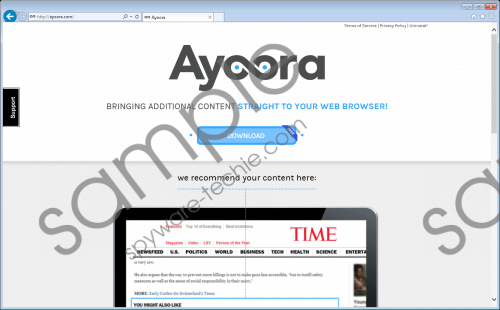 Ayoora screenshot
Scroll down for full removal instructions
The Download button on ayoora.com is inactive, which is not surprising to us because most ad-supported programs in the Lyrics family are spread by third-party installers. This provides an opportunity for other programs to enter your operating system along with Ayoora. We are sure that some of these programs will be harmless, but it is possible that such malicious threats could use this security loophole to slither in. Of course, if your operating system was protected reliably, you would not need to worry about the removal of third-party infection or Ayoora itself. Even if you do not suspect malicious programs to have entered, it is wise to run a malware scanner just to be sure.
The protection of your operating system should be your number one priority because, if your operating system is protected, you will not need to worry about any security issues. Because your PC is not protected and you need to remove Ayoora – possibly along with other threats, the best thing you can do is install a security tool that can delete unreliable/malicious programs automatically.
Delete Ayoora from Windows
Delete from Windows 10/Windows 8/Windows 8.1
Simultaneously tap keys Win+R to launch RUN.
Enter Control Panel into the dialog box and click OK.
Select Uninstall a program (you can find it using the search box at the top).
Right-click the program you want to remove and click Uninstall.
Delete from Windows Vista/Windows 7
Move to the left of the Taskbar and click the Windows/Start button.
Open the Control Panel menu and select Uninstall a program.
Right-click the application you have decided to remove and click Uninstall.
Delete from Windows XP
Move to the left of the Taskbar and click the Start button.
Open the Control Panel menu and double-click Add or Remove Programs.
Find Ayoora, click it once, and select Remove.
In non-techie terms:
You might encounter no security issues when using Ayoora, or you could be exposed to security breaches -- and this is the risk that you need to be aware of. After researching this advertisement-supported program, our research team has come to the conclusion that it is best to delete Ayoora from your operating system. If you follow the guide above, make sure to scan your Windows system to see if you need to remove leftovers or other unreliable programs. If you choose the automatic removal option, malware and the protection of your operating system will be handled for you.