Do you know what awesomehp.com is?
Awesomehp.com is a browser hijacker which will change your homepage if it manages to sneak in your computer. It works on all the major browsers; thus you will not be able to escape it easily. If you are eager to use your preferred homepage, you should remove awesomehp.com browser hijacker entirely from your system. It is the only effective way to stop it. You should definitely not keep it onto your computer because it might lead you potential threats via advertisements that it is going to show you. Is it worth risking? We believe not; thus, we advise you not to trust it. In addition, you should beware of other applications, for instance, Sweet Page and Nation Zoom which are very similar to awesomehp.com
If you have awesomehp.com onto your computer, you will notice that you are forced to use its search engine which is powered by Yahoo!. If you enter a query, you will notice that these results do not differ from those provided by other reliable search engines from the first sight; however, if you look more carefully, you will see that these results are provided together with an advertisement at the top. Thus, it might be true that you might see sponsored search results as well. As you can see, there is no point in using such search engine which results cannot be fully trusted.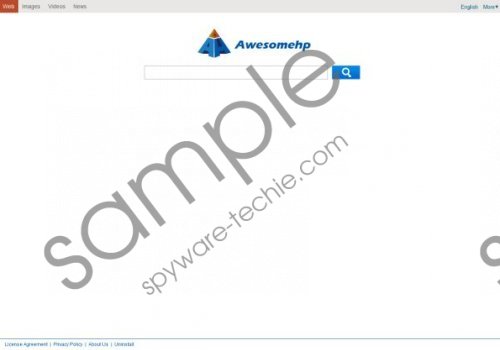 Awesomehp.com screenshot
Scroll down for full removal instructions
Furthermore, if your browser has been already hijacked to awesomehp.com, make sure that you do not click on these advertisements which will be presented for you together with the search results. The reason for such an advice is very simple – we want to help you protect your computer. Do you wonder why these advertisements are such a big deal? First of all, you should know that awesomehp.com itself does not monitor third party websites and content itself. If you click on any of those ads, you might be redirected to such websites which contain malicious software.
You should know that awesomehp.com might collect some information such as your contact information, demographic information, and your location. Some data about your search queries might be collected as well because all these ads are provided for you in relation to the search queries that you enter into the search box. If you do not want to share such information with anyone, you should remove awesomehp.com as soon as possible.
You can remove this browser hijacker using the instructions that we have provided for you below or you can just acquire a reliable antimalware tool and then scan your computer with it. The best what we can recommend for you is SpyHunter. It is an automatic removal tool which will definitely erase all the threats as well as keep your computer protected from future infections.
How to remove awesomehp.com
Internet Explorer
Launch your browser and then tap Alt+T.
Select Internet Options and then select the General tab.
In the Home Page box, type in a new homepage URL, click OK.
Press Alt+T again but then select Manage Add-ons.
Select Search Providers from the Add-on Types menu.
Select a new search provider and click Set as default.
Remove the undesirable one by selecting it and clicking the Remove button.
Mozilla Firefox
Open your browser and then locate the search provider icon at the top-right corner.
Select a new search provider from the drop-down menu.
Click on the search provider icon again and then select Manage Search Engines…
Click on the search engine which you want to erase and then click the Remove button. Click OK.
Press Alt+T again and then select Options.
Select the General tab and then type in the address of your homepage.
Click OK.
Google Chrome
Open your browser and tap Alt+F simultaneously.
Select Settings.
Mark Open a specific page or set of pages in the section On Startup.
Click Set pages.
Add a new URL and remove the one associated with the awesomehp.com
Click OK.
Mark Show Home button under the Appearance and then select Change.
Add a new homepage address and click OK.
Select Manage search engines… in the section Search.
Select a new search provider and click Make default.
Click on the engine which you want to erase, and then click X.
Select Done.
In non-techie terms:
Awesomehp.com is a typical browser hijacker because it changes your homepage address and search engine once it gets on your system. You should not trust it because it might cause harm to the security of your computer. This is one of the main reasons why we recommend that you erase awesomehp.com from your system. If you do not want to make any effort, you should leave all the work for an automatic antimalware tool SpyHunter. Click on the button and download its free scanner.
Aliases: Awesomehp virus.