Do you know what Awesome-Promos is?
Awesome-Promos is an adware application, and it enters your computer to spam you with annoying commercial content. The program displays multiple commercial offers because it needs you to click them. By clicking the ads, you help Awesome-Promos make money for its developers. This kind of system is not malicious or inherently dangerous, but it might as well be exploited by unreliable third parties. To put it simply, if you do not remove Awesome-Promos right now, you may risk severe computer infection in the near future. It is more than obvious that any user would want to avoid that.
It is possible to avoid installing adware applications if you steer clear of file-sharing websites and other pages involved in freeware distribution. The guys from our research lab say that Awesome-Promos is yet another app from the Multiplug family, so it is practically the same as StarConcept, BraderApp, TwistTinter, and so on. These programs do not need an official website to spread around. Although Awesome-Promos comes with one, located at awesomepromos.org, this website is not part of the program's distribution network. Instead of that, the application travels around in the IntstallRex (sometimes Vittalia or Amonetize) installers. You encounter and download these installers when you access unfamiliar (or perhaps well-known) file sharing sites.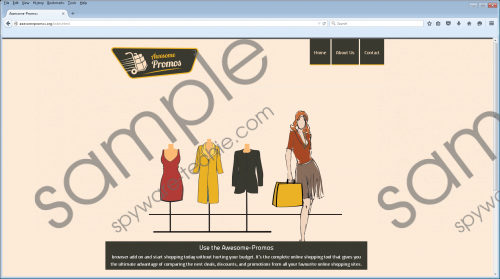 Awesome-Promos screenshot
Scroll down for full removal instructions
The point is that it is often possible to avoid installing Awesome-Promos on a target PC, but users are too hasty to install something to bother reading all the installation steps in a setup wizard. Consequently, many unfamiliar programs manage to settle down on an unprotected system. We would like to point out that Awesome-Promos may not be the only unwanted application that was currently installed on your PC. Research suggests that the adware app may also come bundled with LightningDownloader (a potentially unwanted programs), Websearch.hotfindings.info (a browser hijacker), and oursurfing.com (yet another browser hijacker).
As you can see, there might be more potential threats running on your PC, and Awesome-Promos is more of a heads-up notification that can let you know something is off. As far as the annoying pop-ups are concerned, it goes without saying that you should never click the commercial ads displayed by this adware program. Although the application claims that it is there to help you purchase something you want at a lower price, you definitely will not be able to do that with this program.
Awesome-Promos displays third-party content outsourced to advertising networks that do not care whether the links embedded in the ads are safe or not. Likewise, the application itself also does not review that ad content. To put it simply, if you click any of the Awesome-Promos ads, you are entirely on your own. It would not be surprising if you were redirected to a dangerous website, but the security of third-party content is already none of the application's concern.
If you want to avoid the worst-case scenario, which would result in a horrible computer infection (thus a complete loss of your data and money), it is about time to remove Awesome-Promos for good. You will also have to delete the extension from Mozilla Firefox and Google Chrome, but that is not too challenging. In fact, you can do it yourself by following our instructions below.
How to Delete Awesome-Promos
Windows 10 & Windows 8.1
Right-click the Windows icon on the left corner of your taskbar.
Select Control Panel on the drop-down menu.
Open Uninstall a program and remove Awesome-Promos.
Windows Vista & Windows 7
Click the Start menu and go to Control Panel.
Select Uninstall a program and remove Awesome-Promos.
Windows XP
Open the Start menu and navigate to Control Panel.
Double-click Add or remove programs and uninstall Awesome-Promos.
Remove Awesome-Promos From Your Browser
Google Chrome
Press Alt+F and click More tools.
Open Extensions and remove Awesome-Promos.
Mozilla Firefox
Press Ctrl+Shift+A and the Add-ons manager will open.
Disable and remove Awesome-Promos from Extensions.
Restart your browser for the changes to take effect.
In non-techie terms:
Awesome-Promos is a potential security threat that collects information on your web browsing habits, and then leaks it to unreliable third parties. It is in your best interests to remove Awesome-Promos right now. If you encounter any difficulty while trying to get rid of this application, please do not hesitate to leave us a comment. You should also try out the secondary set of software removal instructions at the bottom of this page.