Do you know what Avest Ransomware is?
Our researchers say that the title of a malicious application called Avest Ransomware comes from the name of a Belarusian company titled ZAO AVEST. Hackers might be using the organization's name to trick its customers into installing the file-encrypting threat. After the malware encrypts a victim's files, it shows a note which explains how to contact the cybercriminals behind the malware. If you became a victim of this malicious application, you should know that dealing with its developers could be risky. In case they refuse to keep up with their promises, you could lose your money in vain. We suspect the hackers ought to ask for payment even though the malware's note does not mention it because most of such threats are used for money extortion. To learn more about Avest Ransomware, we invite you to review our full report. For users who want to learn how to erase such a threat manually, we can offer our removal guide available below the main text.
Users who already received Avest Ransomware or want to protect their computers from it should know that the malware could be spread via Spam emails, unreliable file-sharing websites, and so on. Thus, its source could be any recently downloaded or received file. Usually, specialists recommend not to launch files that come from untrustworthy sources without scanning them with a reputable antimalware tool first. Of course, the safest way would be not to visit websites that could contain potentially malicious data or interact with Spam emails. Another thing we ought to advise is to ensure your system has no vulnerabilities that could be exploited by threats like Avest Ransomware. For instance, weak passwords and outdated software are probably the most common computer vulnerabilities.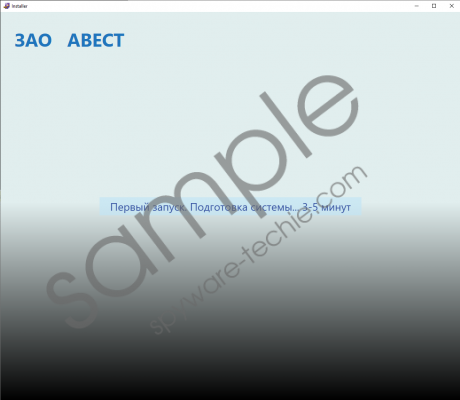 Avest Ransomware screenshot
Scroll down for full removal instructions
What happens if Avest Ransomware infects your system? The malicious application should begin encrypting files like pictures, photos, documents, archives, and other valuable data. During this process, each affected file should be locked with a robust encryption algorithm. Also, the threat was programmed to mark each file with an extension called .email(data1992@protonmail.com).pack14. Encrypted data cannot be opened without a special decryptor that the hackers behind this malicious application might have and are likely prepared to offer. After encrypting files, the malware should drop a ransom note. In it, victims ought to find a short message saying they can contact hackers via the provided email address. Usually, cybercriminals reply that victims have to pay for decryption tools.
Sums always vary, so we cannot say how much money the Avest Ransomware's developers may want to receive. In any case, we do not recommend dealing with them if you fear getting scammed. Especially, when reports are saying that cybersecurity experts were able to create a free decryption tool for this malware. Thus, instead of putting up with the hackers' demand, you could try to get a free decryption tool created by IT specialists. Lastly, you may wonder what ought to be done about Avest Ransomware? Our specialists advise not to leave it on a system because it could still be dangerous. To eliminate it, you could use a reputable antimalware tool of your choice or follow the removal guide available below this text.
Erase Avest Ransomware
Press Ctrl+Alt+Delete.
Pick Task Manager and check the Processes tab.
Locate a process belonging to the malware.
Choose the process and click End Task.
Exit Task Manager.
Click Windows Key+E.
Navigate to the suggested paths:
%TEMP%
%USERPROFILE%Desktop
%USERPROFILE%Downloads
Find a recently downloaded suspicious file that is likely to be the malware's source, right-click the malicious file, and select Delete.
Look for a file called !!!Readme!!!Help!!!.txt; it could be on your Desktop.
Right-click the ransom note and press Delete.
Exit File Explorer.
Empty Recycle bin.
Restart the computer.
In non-techie terms:
Avest Ransomware is a malicious file-encrypting program. Most of them are created to take victims' files as hostages and to demand ransoms. In exchange, the malware's developers could offer a decryptor. Such a tool could be able to decrypt all enciphered files. However, you may not necessarily have to deal with hackers to get such a decryptor as our researchers report there is a free decryption tool that was created by cybersecurity specialists. Another way to get your data back is to replace encrypted files with backup copies that you might have on cloud storage, removable media devices, or elsewhere. Of course, before uploading backup copies or creating any new data on a device infected with the malware, we advise deleting Avest Ransomware first. It could be eliminated with the instructions available a bit above this paragraph. On the other hand, if you think the process is too challenging, you could employ a reputable antimalware tool. If you do, we advise you to perform a full system scan and to wait for results. Afterward, you should be able to remove all detections at the same time by pressing the antimalware tool's provided deletion button.