Do you know what Auf ihrem computer ist infiziert Virus is?
At the moment Auf ihrem computer ist infiziert Virus is one of the most notorious infections threatening German Windows users' security. The infection is presented through a fictitious security warning that mimics Windows startup background. Together with the utilized Microsoft Windows name and logo, this background has tricked thousands of computer users into giving up hundreds of Euros. You should not allow the scam to affect you financially, and if you are already viewing the disturbing notification, hurry up to remove Auf ihrem computer ist infiziert Virus from the computer. You will find detailed virus removal instructions below; however, our research team recommends analyzing all information, as this could help you prevent malware from entering your PC again.
The fake alert presented below is what your computer's screen will be locked with, meaning that you will not be able to access your desktop. Please note the lack of information, which indicates that this alert should not receive any of your attention.
Achtung!
Ihr computer ist mit Windows-Trojaner infiziert Spind
Dieses Programm hat Zugriff auf alle Dateien und Wechseldatenträger an den Computer blockiert.
Starten Sie Ihren Computer und versuchen, das bösartige Programm zu löschen, wird bei der Entfernung von all Ihre Daten und Betriebssystem Windows führen.
Um den Computer zu entsperren, müssen Sie 100 € für 10 Stunden bezahlen.
Nach 10 Stunden alle Ihre Dateien werden gelöscht. Und sie können nicht seinem Computer.
The fictitious Windows warning may be presented in any other language, because schemers have been noticed to use the same interface and tactics to trick Windows users living outside Germany. The most notable of these clone infections is Access to your computer was denied. Unfortunately, this is not the only form of the Ukash virus that could threaten your financial security, as such infections as GEMA virus, GVU virus, Achtung! ihr computer wurde gesperrt virus and Bundespolizei Ihr Computer wurde gesperrt could infect any unprotected Windows system in Germany.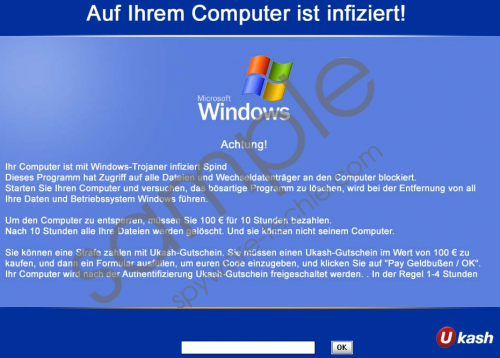 Auf ihrem computer ist infiziert Virus screenshot
Scroll down for full removal instructions
You should not even think of paying the €100 in order to regain your access to the computer. Your payment could have no effect and you should never comply with cyber criminals' demands. Therefore, you need to perform Auf ihrem computer ist infiziert Virus removal, and if you follow these instructions, your computer will be clean and protected against future malware invasions within a few minutes time.
Restart the PC. Do this using the power button if you cannot access the desktop.
Do not wait for the computer to boot and press F8 to access the Advanced Options Menu.
Using arrow keys choose Safe Mode with Networking and hit Enter.
Once the computer loads up, launch a web browser and enter http://www.spyware-techie.com/download-sph into the address box.
Follow the presented instructions and install SpyHunter.
The instructions for Windows XP users are slightly different, and after following steps 1-4, users will need to do the following:
Save SpyHunter's installation files on the computer.
Expand the Start Menu found on the Task Bar.
Launch RUN and type in "msconfig". Hit OK.
Within MSConfig Utility click on the Startup tab and hit Disable All.
Click Apply.
Restart the computer normally.
Install SpyHunter to have Auf ihrem computer ist infiziert Virus removed.
In non-techie terms:
Even though Auf ihrem computer ist infiziert Virus has a highly deceptive and misleading interface, you need to understand that Microsoft would never lock your computer or demand money from you in this manner. So, the faster you remove the devious infection – the better, and we recommend performing automatic Auf ihrem computer ist infiziert Virus removal, because one single mistake made whilst operating manually could help the schemers to continue with their monstrous scam.
Aliases: Auf ihrem computer Virus.