What is AtoZManuals Toolbar?
You might mistake AtoZManuals Toolbar for a safe and reliable application because it promises its users to give them access to thousands of PDF manuals for various electronic appliances, software, and the like. However, there is a dark side to this toolbar as it can also replace your browser's homepage address secretly and collect information about you to be used for showing commercial ads in the search results. Therefore, we suggest that you remove it from your browser. Based on the research conducted by our cybersecurity experts, we have concluded that this application was created not to provide you with product manuals but show you ads that generate revenue for this program's developers and their advertising partners. For more information, we invite you to read this entire article as it contains the most relevant information available.
Once AtoZManuals Toolbar is installed on your PC, it will replace your browser's default homepage address to the Search.myway.com search engine secretly. This search engine features links to various popular websites below its search bar, and AtoZManuals Toolbar adds a toolbar to the top of the main page that features a tab to websites where you can find product manuals, links to translation-related sites, news, Facebook, and Internet radio. That is all of what this program can do, so do not expect it to provide you with anything that is actually useful.
The fact of the matter is that Search.myway.com uses Google's search results, so it offers nothing unique. Moreover, since it comes from a shady background, this search engine can to more harm than good. Our researchers say that Search.myway.com and AtoZManuals Toolbar work together to collect information about you and use it to show your shady promotional links and ads that can potentially jeopardize your computer's security. It can show you links to cloned websites that can scam you or some other type of scam sites, as well as websites that host malicious downloads.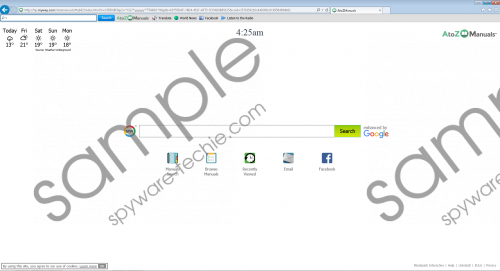 AtoZManuals Toolbar screenshot
Scroll down for full removal instructions
Our cyber security experts have concluded that this application was configured to collect information about you. Our researchers say that, according to its privacy policy, Search.myway.com can obtain information such as your "IP address, your browser type and language and other browser-related information, a time-stamp, the keyword query, search query text, search results clicked, pages viewed, search history, the content of any of our undeleted cookies, including a unique identifier." This search engine collects that information using browser cookies and web beacons. The collected information is used, primarily, to present you with ads that you would be more inclined to click and, thus, generate its developers ad revenue.
Researchers say that both AtoZManuals Toolbar and Search.myway.com are products of Mindspark Interactive Network, a company that is well known to us as it is the most prominent shady toolbar developer currently out there. Among many other toolbars, this company has released MyDigitalCalendar Toolbar, QuickWeatherAlert Toolbar, ProductManualsFinder Toolbar, and so on.
As far as AtoZManuals Toolbar's distribution methods are concerned, we have found that it has a dedicated distribution website at Atozmanuals.com/index.jhtml that hosts the download for Google Chrome, Mozilla Firefox, and Microsoft Internet Explorer. Also, certain sites such as Zippyshare.com can redirect you to it when you try to download something. You can also get this toolbar for the Chrome Web Store for Chrome. However, the third distribution method is not so legal. We have found that its developers have arranged this extension to be bundled with other software and installed automatically.
That is all of the information we have on this application. There is no doubt that some of its distribution methods are malicious and can get it onto your browser secretly. Furthermore, it offers nothing useful and can only subject you to potentially dangerous content if you use its accompanying search engine. Therefore, we invite you to make use of the guide below and remove this toolbar.
Removal Guide for Microsoft Internet Explorer
Windows 10
Press Windows+X keys and open Programs and Features.
Find AtoZManuals Toolbar and right-click it.
Click Uninstall.
Windows 8 & 8.1
Open the Charm bar and click Settings.
Go to Control Panel.
Click Uninstall a program.
Find AtoZManuals Toolbar and right-click it.
Click Uninstall.
Windows 7 & Vista
Press the Windows Key.
Click Control Panel and select Uninstall a program.
Find AtoZManuals Toolbar and click the Remove button.
Windows XP
Open the Start menu.
Select Control Panel and click Add or Remove Programs.
Find AtoZManuals Toolbar and click Remove.
Removal Guide for Chrome and Firefox
Mozilla Firefox
Press Ctrl+Shift+A.
Select Extensions.
Locate AtoZManuals Toolbar and click Remove.
Google Chrome
Press Alt+F.
Select More tools and click Extensions.
Locate AtoZManuals Toolbar and click Remove.
In non-techie terms:
AtoZManuals Toolbar is a deceptive application as it claims o offer you user manuals for various products but the main issue with it is that it replaces the homepage address with a search engine that may feature questionable promoted links in the search results that could jeopardize your computer's security. Therefore, we recommend that you remove it from your browser ASAP.