Do you know what Astrology.com Toolbar is?
Astrology.com Toolbar is a potentially unwanted application that manifests itself as a browser toolbar. This application often functions like adware, in a way that it collects data on your web browsing habits and then exposes you to potentially corrupted content. Computer security experts recommend removing Astrology.com Toolbar from your system as soon as possible. This toolbar can be very intrusive so you should get rid of all the related files and applications to prevent potential security issues. After all, there is no need to keep the program if you haven't installed it willingly!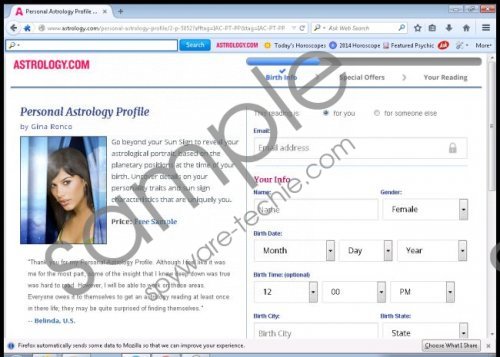 Astrology.com Toolbar screenshot
Scroll down for full removal instructions
Our research team says that Astrology.com Toolbar comes from the MindSpark toolbar family. As such, the application is directly related to PuzzleGamesDaily Toolbar, KnowTheBible Toolbar, CitySearch toolbar, and others. The tool can be downloaded from free.astrology.com. All MindSpark toolbars have functional homepages, and the direct download is available. Nevertheless, Astrology.com Toolbar might also come bundled with potentially unwanted software. After all, it is very unlikely that users stumble upon free.astrology.com on their own, unless they search for something related to astrology.
You might ask, why we maintain that removing Astrology.com Toolbar is the best option in this case. Well, the problem is that this toolbar is highly intrusive. Not only does this program add extension to Google Chrome, Mozilla Firefox, Internet Explorer, it also modifies your default homepage if you install the full setup. The problem is that users often fail to read all the installation steps, especially the ones that inform them about additional functions and features. Astrology.com Toolbar does notify potential customers that with full setup their default homepage and search engine will be changed to ask.com, but that does not seem to sink in well.
Ask.com certainly looks like a reliable search engine, and it also comes with a list of shortcuts to popular websites (like Facebook, Twitter, Amazon, etc.). However, we cannot rule the possibility that with the default search engine changed and the toolbar installed, all of your web browsing sessions get monitored 100%. Consequently, if Astrology.com Toolbar gets exploited by cyber criminals, all the collected information could be misused for malware distribution purposes.
Although adware applications seldom lead to serious computer security issues, the possibility is always there, so you need to remove Astrology.com Toolbar from your system and never look back! We provide manual removal instructions below this article, but if you require any further assistance, please leave us a comment. You should also get yourself a licensed antispyware tool that would safeguard your system against similar threats in the future.
How to remove Astrology.com Toolbar
Windows 8
Move mouse cursor to the bottom right of your screen.
Click Settings on Charm bar and go to Control Panel.
Select Uninstall a program and remove Astrology Internet Explorer Toolbar.
Windows Vista & Windows 7
Open Start menu and click Control panel.
Go to Uninstall a program and remove Astrology Internet Explorer Toolbar.
Windows XP
Click Start menu and select Control panel.
Access Add or remove programs and uninstall Astrology Internet Explorer Toolbar.
Change your browser settings
Mozilla Firefox
Press Alt+T and click Options.
Open Search tab and change your default search engine.
Remove Ask Search from the list and click OK.
Press Alt+T again and go to Options.
Open General tab and change your homepage address.
Click OK and press Ctrl+Shit+A. Add-ons manager tab opens.
Disable and remove Astrology from Extensions.
Restart browser for the changes to take effect.
Google Chrome
Press Alt+F and select More tools.
Open Extensions and remove Astrology.
Click Settings on the left pane.
Mark Open a specific page or set of pages under On Startup.
Click Set pages and change your startup page address. Press OK.
Select Manage search engines under Search.
Set a new default search engine, delete Ask Search and click Done.
In non-techie terms:
Astrology.com Toolbar is a toolbar that can cause you a lot of trouble. It breaches your privacy and redirects you to unfamiliar websites that could be related to malware. It is for the best to remove Astrology.com Toolbar from your computer as soon as possible.