Do you know what Assembly Ransomware is?
Assembly Ransomware is one more malicious program that should not be up and running on your operating system. If unfortunately, that is already the case, be sure to do everything in your power to conduct its complete removal without any hesitation. Doing so is imperative because this application exhibits incredibly malicious functionality. It can easily encrypt a vast amount of data stored on the affected computer in a matter of minutes. As you can imagine, having this malware up and running on your PC will have detrimental outcomes, to put it lightly. Read the rest of this report to find out more about this malicious application's inner workings. Alongside such information, we present a few virtual security recommendations that will help you maintain a clean and safe operating system. Last, but not least, we include a detailed removal guide, which you should use to delete Assembly Ransomware without encountering any major problems.
First, it is crucial to highlight the fact that Assembly Ransomware is yet another malware designed using the infamous Hidden-Tear project. That is not at all surprising; malware developers favor this project because it allows them to craft ransomware application in the easiest way possible. The list of malicious programs crafted with the help of Hidden-Tear project includes applications such as Balbaz Ransomware, Executioner Ransomware, Kee Ransomware. Thus, it is not at all surprising that the malware in question does not differ from its counterparts in its functionality. As soon as it gains successful access to your operating system, it immediately starts acting. First, it quickly scans the contents of your hard drive and the initiates the encryption procedure. It is essential to note that the ransomware in questions usually blindsides users that it affects because it functions silently. To eliminate any chances of manually regaining access to affected files this application does a couple of things. First, it deletes all of your shadow copies so they could not be used for restoration purposes. Also, during encryption, it uses a robust cipher, which eliminates any chance of manual decryption. The ransom note, which this malware drops, tells you that your data is encrypted and that you must pay $1000 in Bitcoin in return for decryption services. Under no circumstances abide by these demands since malware developers are not legally bound to unlock your data even if you pay up. Make sure to delete Assembly Ransomware as soon as it is found active on your operating system. Do so in just a few simple steps by following the detailed instructions below.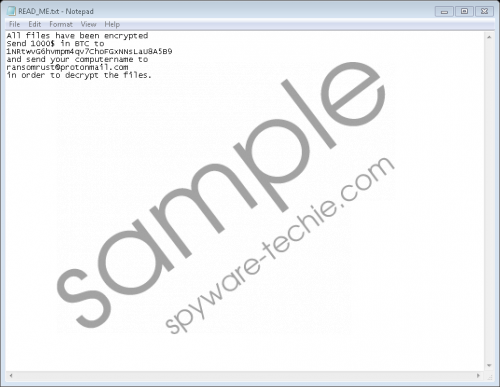 Assembly Ransomware screenshot
Scroll down for full removal instructions
Having a secure operating system is vital, to put it lightly. If your computer is poorly protected, you face the risk of infecting it with all sorts of dangerous programs. To help you improve your virtual security, we provide a few recommendations. First, our malware experts advise you to download all of your software from its official developers' websites only because unauthorized distribution sites are infamous for hosting bundled installers. Such setup files are notorious for being filled with suspicious and even malicious applications. Additionally, you need to avoid all emails and email attachments that come your way from unknown sources. Doing that is essential because cyber crooks often use spam email campaigns to spread their invasive programs on a large scale. Furthermore, be sure to install a professional antimalware tool if you do not have one already. Such a tool is imperative because it provides overall system security; it can identify and remove any virtual security threat automatically. Taking these steps will help you maintain a clean and secure operating system at all times.
Remove Assembly Ransomware as soon as it is found up and running on your operating system. Do so by following the instructions below. It is essential not to skip any steps of the removal guide since a single mistake could result in an incomplete removal, which could have unwanted consequences. That is so because traces of this ransomware could be enough for it to continue doing its dirty work. In other situations, those same leftovers might trigger a restoration procedure of Assembly Ransomware without your knowledge. If you wish to avoid finding yourself in such a situation, you need to double-check your entire operating system for anything associated with Assembly Ransomware as soon as you are done with the instructions below.
How to remove Assembly Ransomware
Open your File Explorer.
Go to C:\Users\[your username]\Downloads.
Right-click the malicious .exe file and select Delete. Note that the name of this malware is random.
Close your File Explorer.
Right-click your Recycle Bin and select Empty Recycle Bin.
In non-techie terms:
It is quite natural that some users find manual removal and analysis of their operating system a bit too complicated. Our research team is well aware of this fact. Thus, if you happen to be one of those users, there is nothing to worry about. Below we present an alternative removal guide. Follow these instructions and you will be able to remove Assembly Ransomware automatically.