Do you know what Asearch.online is?
Asearch.online is an invasive browser that can modify the default search engine and the homepage of your Internet Explorer and Mozilla Firefox browsers. This hijacker is silent, which means that it can take over your browsers without any warning, and that makes it one of the most annoying kinds of hijackers out there. This hijacker takes on the interface of a search provider, and many users think that using it will bring no issues. Unfortunately, that is not the case. If this threat corrupts your browsers, it can redirect you to malicious pages and spy on you using data-tracking tools. If you do not remove Asearch.online from your browsers, you could be scammed, and that is what you need to beware of. Our research team has prepared this guide to help you understand the risks associated with this hijacker and to help you delete it from Mozilla Firefox and Internet Explorer browsers.
The interface of Asearch.online is very clever because it reminds users of a search provider. However, it should not take long for you to realize that this tool is completely useless. When you enter keywords into the search dialog box, no search results will be shown. Whether you search Web, Images, Videos, or News, no search results will be presented to you. Just like a regular search tool, this one is supported by a Privacy Policy that is allegedly introduced to you by ASearch LLC. It is most likely that this company is fictitious. According to this statement, both "non-personal" and "personal" information is collected. On top of that, this information can be shared with or sold to third parties, who, of course, are not disclosed, which makes them unpredictable and possibly dangerous. The document also reveals that Asearch.online uses cookies, beacons, tags, and scripts to spy on you and analyze data about you. This is why we not only recommend removing the hijacker but resetting your browsers as well.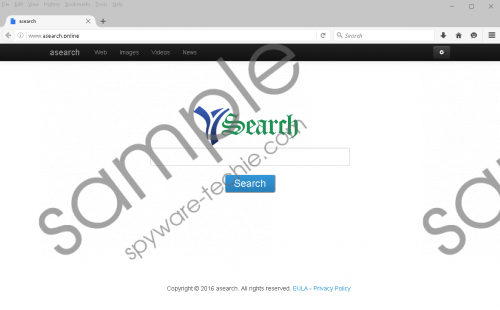 Asearch.online screenshot
Scroll down for full removal instructions
The worst thing that Asearch.online can do is redirect you to third-party websites promoting scams. One of these websites is securityalertwarning.online, and it is associated with the infamous **Your Computer has been blocked** +1-(888)941-3234 scam. We have analyzed this scam previously, and you can check the guide that we have produced to learn more about it. What you need to know is that Asearch.online will not stop redirecting you to scam pages until you remove it, and these scam pages can be very misleading. For example, they might lock your browsers and trick you into thinking that you need to call the provided helpline numbers. Whenever you come across a notification listing a helpline number, you should cross-check it to see if it is authentic. A simple search can tell you a lot! If you have already been in contact with cyber criminals, think about what information you have revealed, and take steps to protect yourself against scams that could be initiated using this information.
You can uninstall an entry called "Netim version [number]" via the Uninstall a program/Add or Remove a Program utility, but that will not delete Asearch.online from your browsers. We suggest erasing the folder containing the files of this hijacker using the guide below. Afterward, you should also reset your browsers to get rid of the hijacker and clear the cookies, beacons, and other tools implemented by the infection. The instructions below are easy-to-follow, but if you are having any problems with them, you can start a discussion below. After you get rid of the hijacker, we strongly suggest using anti-malware software to keep your operating system protected from the invasion of other threats. At least scan your PC to check if it is clean and safe to use.
Remove Asearch.online
Delete the malicious components
Tap Win+E keys simultaneously to launch RUN.
Type C:\Windows into the address bar.
Right-click and Delete the folder whose name includes your computer name and numbers (e.g., mypc_123456).
Reset your browser as shown in the instructions below.
Reset Internet Explorer
Open the browser and tap Alt+T keys to access the Tools menu.
Select Internet options and then click the Advanced tab.
Click Reset and select Delete personal settings.
Click Reset again and then restart the browser.
Reset Mozilla Firefox
Open the browser and tap Alt+H to access the Help menu.
Select Troubleshooting Information.
Click the Refresh Firefox button on your right.
Click Refresh Firefox again for confirmation and then restart the browser.
In non-techie terms:
You need to delete Asearch.online not only because it can hijack your browsers without any warning but also because it can redirect you to pages set up to scam you. On top of that, this hijacker can spy on you and disclose personal information to unknown parties. Clearly, this hijacker is dangerous, and you should make sure to get rid of it as soon as possible. Are you tempted to get rid of this hijacker manually? We are sure that you can successfully eliminate it from your PC and browsers, but we are not sure that you can handle the removal of other potentially present infections or the protection of your operating system. If a hijacker has slithered in, you must understand how vulnerable your operating system is, and taking care of its protection should be your priority.