Do you know what Armage Ransomware is?
Do not keep your system unprotected – new malicious software Armage Ransomware is on the loose. Even though it is a brand new malicious application, it is very similar to other ransomware infections our specialists have detected over the years. Speaking more specifically, the malicious application infiltrates computers to lock users' personal files. Because of this, if this infection ever finds a way to enter your computer too, you will find almost all your personal files locked. Luckily, the ransomware infection does not try to ruin the Windows OS – it does not touch any system files. If you have already found your files encrypted, it is too late to do something to prevent malware from entering the system – it has already slithered onto your computer. Make sure you delete the ransomware infection from your system as soon as possible. Your files will stay as they are, but no other files will be locked if you do not allow a new ransomware infection to enter your system. You will find everything you need to know about the Armage Ransomware removal in the last paragraph of this report.
A bunch of ransomware infections lock users' files once they slither onto their computers because they all want users' money, but we can guarantee that Armage Ransomware is the one you need to remove from your system if you have found that your files have the .armage filename extension appended. These files have been encrypted using the AES-256 encryption algorithm, which is considered a really secure cipher, so it will not be easy to unlock encrypted files. Actually, we cannot even promise that you will find a way to decrypt them. If you want to, you can contact the author of the ransomware infection by sending an email message to armagedosevin@aol.com, but we are 99% sure that you will not get the decryptor for free. You will have to purchase it from the ransomware author. Usually, decryptors are quite expensive. Since you do not know whether the decryption tool will be shared with you after you make a payment, you should keep the money to yourself and find an alternative way to unlock files instead. It is not very likely that you will find a free decryptor that could crack the AES-256 algorithm, but you could restore affected files from a backup. Unfortunately, you could do this only if you have backed up your files regularly.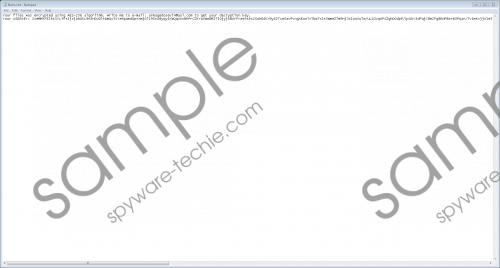 Armage Ransomware screenshot
Scroll down for full removal instructions
Armage Ransomware is not distributed very actively yet, but if you keep your PC unprotected and do not do anything to improve its security, you might find this ransomware infection on your system one day. Our team of researchers could not find much information about its distribution, but, according to them, it is very likely that this threat is spread via spam emails. A malicious email might contain an attachment or a link that automatically starts the malware download. Usually, these emails are created not to look harmful at all, which explains why the rate of users infected by ransomware does not stop growing. Researchers say that malware might be downloaded directly from third-party websites containing thousands of free applications as well, so make sure you always download applications from their official websites. Additionally, it would be best to avoid pirated software.
If Armage Ransomware has already encrypted files on your computer, it is very likely that it has already removed itself from your PC. That is, you fill not find the malicious .exe file anywhere. It only leaves the ransom note it drops. This file is not dangerous since it is the ordinary text file, but you should still remove it from your system. Our instructions (you can find them below) will help you to eliminate it.
Delete Armage Ransomware
Find the ransom note Notice.txt dropped on your PC.
Delete it.
Empty Trash.
In non-techie terms:
Armage Ransomware is a threat that locks users' personal files. Most probably, it has been developed to obtain money from users even though it is not distributed very actively by cyber criminals yet. If it ever locks your files too, do not even think about sending money to its author. You should delete the ransomware infection instead right away and then restore files from a backup, if possible. Acquire a trustworthy security tool and keep it active on your system all the time so that similar infections could not enter your system illegally and cause harm.