Do you know what Arma dei Carabinieri Virus is?
Those living in Italy may have their systems infected with Arma dei Carabinieri Virus right as you read this. The malicious ransomware infection represented by the Urausy Trojan can enter the PC without the knowledge of the owner of the targeted system. Have you recently opened spam email attachments, clicked on suspicious links or advertisements, downloaded freeware from unreliable sources or performed other questionable activity? There are plenty of security vulnerabilities that cyber criminals are known to use for spyware distribution. If your personal computer is not protected, soon enough you may need to worry about the removal of clandestine spyware. Do you need to delete Arma dei Carabinieri Virus? If your PC has been locked with a warning from Arma dei Carabinieri, you certainly have been attacked by schemers, and so you need to remove malware from the computer.
Here are a few excerpts from the bogus notification which locks the computer:
ATTENZIONE! Il Suo computer personale è stato bloccato per motive di sicurezza per le seguenti ragioni. Lei è accusato di visualizzazione / memorizzazione / o distribuzione di material pornographic di contenuto proibito […] L'articolo 161 del Codice Penale della Repubblica Italiana prevede come pena la privazione della libertà da 5 a 11 anni. […]
La dimensione della Sua multa è 100€.
Needless to say, the main objective of the lock-down is your money. In order to achieve their goal, cyber criminals present an authentic-looking notification with the credentials of Policia delle Comunicazioni, Copyright Alliance, Interpol, Internet Police and Cyber Crime Unit. Even though these titles and logos may look intimidating, we can guarantee that these reputable organizations have nothing to do with the listed accusations, the demanded fine or the locked computer. Note that this scam could be used by the cyber crooks behind Polizia Penitenziaria Virus, Polizia Di Stato Virus, and many others as well. Without a doubt, if you have noticed these malignant threats corrupting the system – perform the removal immediately.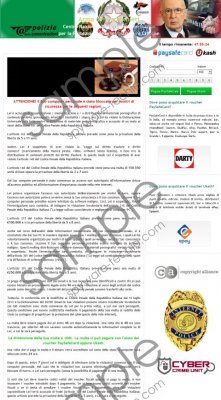 Arma dei Carabinieri Virus screenshot
Scroll down for full removal instructions
Manual spyware removal is highly complicated in some cases, and since the ransomware runs alongside the malicious Trojan, we advise that you install automatic spyware detection and removal tools. Please follow the instructions to unlock the system and implement reliable security software onto the system.
Remove ransomware from Windows
Remove from Windows 8:
Tap the Windows key to access the Metro UI start screen.
Open the Charm Bar, click Settings and then Change PC Settings.
Move to Advanced Startup and click the displayed Start Now button.
Now select Troubleshoot and click Advanced Options.
Click Startup Settings, then Restart and select F5.
After the PC boots up, launch a browser and visit http://www.spyware-techie.com/download-sph .
Download a reliable tool which will delete all existing malware automatically.
Install the application, perform a system scan an remove spyware.
Remove from Windows Vista or Windows 7:
Restart the PC.
Wait for BIOS screen to disappear.
Start tapping F8.
Use arrow keys to select Safe Mode with Networking.
Tap Enter.
Download SpyHunter.
Install the tool and delete the ransomware.
Remove from Windows XP:
Firstly repeat steps 1-5 to reboot into Safe Mode with Networking (use the removal guide for Windows Vista and Windows 7 users).
Click YES if prompted with the Desktop alert.
Download SpyHunter.
Open the Start menu.
Click RUN.
Enter msconfig and click OK.
Click the Startup tab.
Select Disable All.
Click OK to confirm.
Restart the computer (normally).
Install the downloaded tool.
Scan the system and delete computer infections.
In non-techie terms:
Arma dei Carabinieri Virus is a malicious ransomware which will provide bogus information in the hopes of tricking you into paying fictitious fines. If you have already transferred the money using Paysafecard and Ukash systems, make sure you delete the ransomware from the computer. Even if you cannot see it running right now, there is no doubt that cyber crooks still have access and ability to attack again.
Aliases: Arma Carabinieri Virus.