Do you know what Arcadelift Ads is?
Arcadelift Ads is a devious adware server, which is usually responsible for providing devious or otherwise unwanted web content. If you see suspicious ads or pop-ups while surfing the web, there is a chance that your operating system is in connection to this suspicious server. This usually signifies that a questionable third-party program is already up and running on your computer. Due to such connectivity browsing the web will become a much more annoying and frustrating experience. What is even worse than that is the fact that in some instances content coming from this adware server could be quite dangerous as it might subject your operating system to potentially harmful web content. Read this article and learn about the potential dangers associated with this adware server. Also, below we present a generic removal guide, which will help you delete a program associated with Arcadelift Ads in no time at all.
The first indication that your operating system is connected to the Arcadelift Ads server is a browser filled with questionable third-party web content, which usually comes in the forms of adverts, pop-ups, and coupons. It is important to highlight that behind such connectivity there usually is a suspicious ad-supported application. Such program initiates a connection to a questionable server as soon as it gains full access to your operating system. For as long as such application is active on your computer the connection will be kept intact. Due to all of this, surfing the web will become a much more annoying and bothersome experience because ads, coupons, and pop-ups will be presented to you every single time you will decide to surf the web. What adds to the annoyance is the fact that all the content is presented to you in an utterly random manner. Unfortunately, that is not the worst thing about being in connection to this adware server. As it turns out some of the content coming from it could prove to be embedded with redirect links, which could lead you to dangerous websites. By clicking on such ads or pop-ups, you could expose your PC to sites that host malicious software. Also, you might end up on fake online shops, which are created by cyber crooks as a way to steal your credit card data. It goes without saying that you must break the connectivity to Arcadelift Ads server as soon as possible. The only way to do that is by removing the program responsible for keeping the connection in place. Do so by using the instructions that we provide below.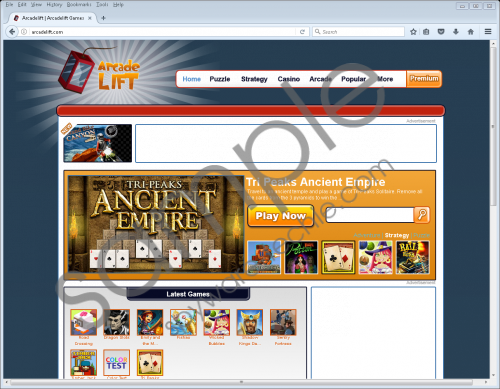 Arcadelift Ads screenshot
Scroll down for full removal instructions
It is important to maintain a secure system so devious programs would not be able to enter your operating system with ease. Malware experts working at our internal labs have compiled a few simple but very effective ways you can keep your operating system clean and secure. Since bundled installers are regularly exploited by malware developers as a way to distribute their software, we highly advise you to avoid third-party download sites as they are infamous for being the primary source of such setup files. Also, you should always pay your utmost attention to every single installation procedure. Be sure to read everything that the setup wizards presents you with; this way you might be able to cancel the installation of some unwanted third-party program. Manipulative and otherwise hoax marketing techniques are very prevalent nowadays. Thus, we urge users to always learn as much as possible about a program that they want to have active on their PC before actually downloading it. While these simple steps will improve your overall virtual security and will significantly reduce the risk of coming across dangerous installers, you must know that your best bet to keep your PC safe and secure at all times, is by running a professional antimalware tool. Such a tool is paramount because it can detect and warn you about any virtual threat in advance.
It goes without saying that you must delete a program that keeps your operating system in connection with the Arcadelift Ads adware server. Below we provide a removal guide that you should use to get rid of the devious program. To be sure that no traces that might be able to restore it are active on your PC, be sure to conduct a thorough analysis of your personal computer for potential leftovers. Such analysis should be executed right after you are done with the instructions below. If you find manual removal a bit too complicated you can simply use a professional antimalware tool to delete the suspicious application linked to Arcadelift Ads because it can do that in a completely automated manner.
How to remove a program related to Arcadelift Ads
Windows 10
Right-click the Windows button.
Select Control Panel and click Uninstall a program.
Select the unwanted program and click the Uninstall button.
Windows 8 and 8.1
Right-click your Task Bar.
Select Control Panel and click Uninstall a program.
Right-click the unwanted program.
Select the Uninstall project.
Windows 7
Tap the Windows key on your keyboard.
Select Control Panel.
Click Uninstall a program.
Double-click the unwanted application.
Confirm that you want to remove it.
Windows XP
Click Start.
Select Control Panel.
Click Add or remove programs.
Select the undesirable application.
Click the Remove button.
In non-techie terms:
If you happen to find manual removal and analysis of your PC too clanging, do not worry. You can terminate this the suspicious application with the help of the alternative removal guide. Simply follow the instructions that we present below and you will be able to delete the intrusive program in a fully automated manner.