Do you know what ArcadeHall is?
ArcadeHall is an application that enables computer users to play various flash games. You will not need to download games because this program will allow you to play them straight from your browser. Even though ArcadeHall seems to be a really useful program, our security specialists have noticed that it is not 100% trustworthy. In fact, some researchers classify it as a potentially unwanted application or even adware. You have to remove ArcadeHall right away if you notice that this program acts in an undesirable way. Our specialists will provide all the necessary information regarding the removal of this program in this article. Make sure that you read through it if you want to be able to remove ArcadeHall yourself.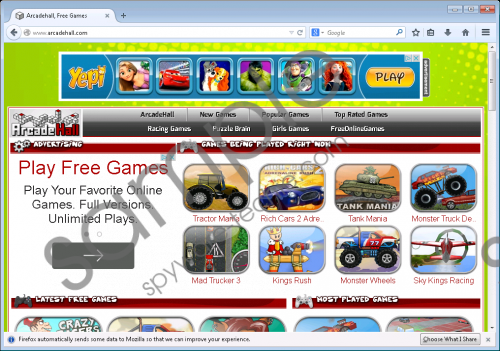 ArcadeHall screenshot
Scroll down for full removal instructions
As has been already mentioned, ArcadeHall is not a completely trustworthy program even if it says that it can enable you to play various interesting games. Actually, there is no doubt that the program is not completely decent because many computer users complain that ArcadeHall shows advertisements. They see them on their screens when they surf the Internet, so it is not surprising that many researchers classify ArcadeHall as an adware (advertising-supported) program. If it really starts showing ads, make sure that you do not click on them because you might be taken to untrustworthy websites that contain malicious software. In fact, there is always a possibility that you will click on them accidentally, so you should better delete ArcadeHall from the system in order to stop them from appearing.
You have to be very cautious in the future because there are many other programs that act like ArcadeHall. Our specialists claim that Arcadeparlor, ArcadeTwist, and ArcadeGiant are those programs that are very similar to ArcadeHall and might enter your system. If you do not want this to happen, you should install a security tool on your computer. On top of that, our security specialists claim that you have to surf the Internet more cautiously. If you listen to our advice, untrustworthy applications will definitely not be able to enter your system in the future.
It is not enough to remove ArcadeHall via Control Panel because it is also necessary to erase all the extensions from Internet Explorer, Google Chrome, and Mozilla Firefox. We have prepared the instructions that will help you to do that (see below); however, if you feel that our instructions cannot help you to delete ArcadeHall at all, you should know that you can scan your system with SpyHunter. It is a reliable tool that will help you to remove ALL the existing infections from the system. Actually, you will only have to launch it and it will do all the work for you.
Remove ArcadeHall
Windows XP
Click the Start button.
Select Control Panel.
Click Add or Remove Programs.
Select the program and click Remove.
Windows 7 and Vista
Open the Start menu.
Select Control Panel.
Click Uninstall a program.
Right-click on the unwanted software and click Uninstall.
Windows 8
Tap the Windows key + R simultaneously.
Type in control panel in the box and click OK.
Click Uninstall a program.
Select the application that you wish to remove.
Click Uninstall.
Internet Explorer
Launch your browser and tap Alt+T.
Select Manage Add-ons and click Toolbars and Extensions.
Select the extension and remove it.
Mozilla Firefox
Open your browser and tap Ctrl+Shift+A.
Open Extensions and then locate the undesirable extension.
Select it and click Remove/Disable.
Google Chrome
Open your browser and tap Alt+F.
Select Settings and then open Tools.
Click Extensions.
Select the undesirable extension and click the recycle bin button next to it.
Click Remove.
In non-techie terms:
If you have removed ArcadeHall, do not forget to check whether there are no other undesirable programs installed. In case you detect them, make sure that you remove them all and then install a trustworthy antimalware tool on the system in order not to allow them to slither onto your PC in the future again.