Do you know what ArcadeApp Search is?
ArcadeApp Search is a new Google Chrome browser extension that has caught our attention because it is virtually an identical clone of another potentially unwanted program (PUP) called ArcadeCenter Search. Our researchers have found that this PUP is indeed a newcomer in the same family that has "given birth" to FilmsApp Home, MusicApp Home, and MovieCenter Search among others. In fact, we have seen around a dozen or so very similar Chrome extensions from these authors. Although you can install this PUP from an official source, it can also be distributed in questionable ways. This also means that this tool may not come alone, i.e., it may bring along a few malware infections. Since you cannot really trust any content this PUP may introduce you to, we believe that it is important that you remove ArcadeApp Search from your computer. Please read our full report on this browser extension to understand why it can pose a threat to your system and how you can prevent similar threats from ending up on your PC.
As we have mentioned, there is one place where you can directly install this PUP officially and it is its Chrome store page at chrome.google.com/webstore/detail/arcadeapp-search/eiocplpcecacffckmennjpibggdajmnf. We find it quite interesting that superappbox.com is mentioned here as the related official webpage but if you visit this page, you cannot find this application there only four other similar PUPs from the same creators. This fact should already send warning signals to any security-minded user. In fact, for some it would be enough to want to delete ArcadeApp Search. But there are worse things about this PUP that will surely convince you, too.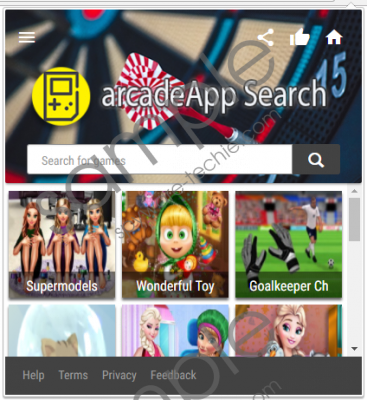 ArcadeApp Search screenshot
Scroll down for full removal instructions
Our researchers have found that this application is also distributed in questionable ways. You may click on a third-party pop-up ad, for instance, and it may install this PUP even without asking for your permission. Of course, this does not mean that this tool never asks you before installation but you need to understand that when being installed via freeware bundles, which is yet another method to spread PUPs and malicious software installers packed together, you may not notice the notification because it is done in a concealed manner. This is why you always need to go for the custom installation option whenever dealing with bundles. But you should never really install any bundle that comes from a suspicious source like a shady file-sharing page or clicking on a corrupt link or ad. You can also infect your computer with bundles and PUPs if your system was previously infected with adware programs, for example. This is why it is important that you run a trustworthy malware scanner after you delete ArcadeApp Search from your PC.
This PUP changes your Google Chrome browser settings to set its potentially risky search engine (play.eanswers.com) as your default. However, this search engine can display questionable modified Yahoo search results. In fact, this PUP also changes your home page and new tab page by removing the default search box so that you would be pushed to use the address bar when in hurry, for example. As you know, the address bar uses your default search engine to show you results. In this case, you are taken to a customized Yahoo search results page that could be filled with promoted content, such as links and ads coming from affiliates. The problem is that you can never be sure how reliable these are. If you do not want to cause further system security-related issues, you need to delete ArcadeApp Search. As a matter of fact, it has no value or benefit for you. This tool simply shows you a small window when its button is clicked on your toolbar near the menu button. This window contains links to free online games on cantstopplaying.com as well as a search box to search for games on that site. Again, you could be introduced to questionable third-party ads if you do not remove ArcadeApp Search.
Finally, we have some good news for you: You can easily eliminate this PUP in a minute even if you are not a tech savvy. In fact, it is as easy as removing this unwanted extension from your Google Chrome browser. If you have never done this before, please follow our guide right below. If you want to protect your computer against malicious attacks, it is important that you keep all your programs updated at all times. But there is nothing more effective than having a reliable anti-malware program like SpyHunter installed on your computer.
ArcadeApp Search removal from your browser
Google Chrome
Tap Alt+F to display the menu.
Navigate to More tools and then, choose Extensions.
Find the unwanted extension and click on the Trash can on its right.
In the pop-up window, click Remove.
In non-techie terms:
ArcadeApp Search is a potentially harmful browser extension that only works in Google Chrome. This potentially unwanted program follows a dozen of very similar tools that seems to have come from the same family. This extension offers you links to low-quality flash games and it also changes your browser settings to promote its potentially risky search engine, play.eanswers.com. This search engine may show you manipulated Yahoo search results to promote affiliates and thus make easy money. However, the content it may offer you could be unsafe to click on because you could drop infections or open malicious pages in new tabs or in new windows. This tool can also end up on your system uninvited when you click on a corrupt third-party pop-up or when installing a freeware bundle from a suspicious source. All in all, we advise you to remove ArcadeApp Search from your computer because it may not have the best intention. If you would like to defend your computer from all known threats, you should consider installing a decent up-to-date anti-malware program.