Do you know what Aqovd.com is?
Aqovd.com is a suspicious search engine which is often classified as a browser hijacker. If this hijacker enters your system, there is no doubt that you will notice that because your homepage and search provider will be replaced by Aqovd.com. We do not think that it is worth keeping this search engine or using it to find the relevant information day after day because it is untrustworthy. In fact, our specialists claim that you might even infect your system with malicious software if you keep Aqovd.com. Actually, we suggest that you remove Aqovd.com as soon as possible if you do not want this to happen. Unfortunately, it is definitely not an easy task to remove this search engine. If you want to find out why it is not so easy to remove Aqovd.com and still how to do that, you should definitely read this article from beginning to end.
Aqovd.com does not differ from gamegogle.com, jogostempo.com, and 123rede.com. All these search engines are not only developed by the same company, but they might cause harm to your system. Our researchers have noticed that Aqovd.com might provide computer users with various third-party links and advertisements. In most cases, computer users notice them when they enter a keyword into the search box. Unfortunately, it might be rather risky to click on those ads and third-party links because they might redirect to untrustworthy websites. The creator of Aqovd.com is definitely not responsible for your safety and it does not care about it at all, so we recommend that you remove Aqovd.com as soon as possible in order not to experience some security-related problems.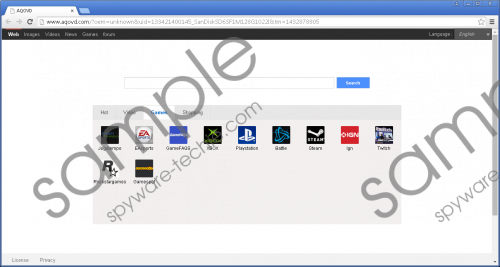 Aqovd.com screenshot
Scroll down for full removal instructions
There are hundreds of untrustworthy applications that might enter your system in the future, so it is very important that you take care of your computer's security in advance. We believe that the easiest way to prevent future malware, including other browser hijackers, from entering the system is to install a trustworthy antimalware tool. We also recommend that you stop downloading various programs from third-party websites. Finally, you should be very careful with freeware and shareware, and always carefully install those programs because you might install a bunch of untrustworthy programs alongside them.
In order to fully remove Aqovd.com, you have to fix the Target line first (see the instructions below the article) and then simply reset your browsers or change homepage and search provider manually. Of course, it is also possible to do that automatically. We recommend getting rid of Aqovd.com browser hijacker automatically if you are a less experienced computer user of if you simply do not have time to do that yourself. In order to fully remove threats, you have to acquire a trustworthy antimalware scanner. In our opinion, the SpyHunter antimalware suite is the best choice. Of course, we do not say that you cannot use another 100% trustworthy tool.
How to remove Aqovd.com
How to Fix the Target Line
Right-click on the icon of your browser and open Properties.
Open the General tab and uncheck the box alongside Read-only.
Open the Shortcut tab and make sure that the Target line ends in quotation marks.
Click OK.
How to reset browsers
Internet Explorer
Launch your browser and tap Alt+T.
Select Internet Options and click on the Advanced tab.
Select Reset.
Put a tick in the box placed next to Delete personal settings.
Click Reset.
Google Chrome
Launch your browser and tap Alt+F.
Select Settings.
Click Show advanced settings.
Click Reset browser settings.
Click the Reset button.
Mozilla Firefox
Launch your browser.
Tap Alt+H and open Troubleshooting Information.
Select Reset Firefox.
Click on this button again.
In non-techie terms:
If you have removed Aqovd.com browser hijacker manually, you should still not forget that it is very important to scan the system with a trustworthy antimalware tool and check whether other threats are not installed on the system. You can do that easily by scanning the system with a diagnostic tool.