Do you know what AppMarket Toolbar is?
AppMarket Toolbar is a potentially unwanted application from Conduit family. It may seem like a legitimate browser plug-in that enhances your overall web browsing experience, but that question is whether AppMarket Toolbar is 100% safe. Due to the fact that it supports third party advertisements, this plug-in might expose you to potential security threats. Therefore, the sooner you remove AppMarket Toolbar from your computer the better. You may also want to remove any other additional applications that have arrived with AppMarket Toolbar as well.
A lot of people consider AppMarket Toolbar browser hijacker, because when a full version of the toolbar is installed your default home page and search engine are changed for search.conduit.com. The same can applied to an extensive number of other browser plug-ins from the Conduit group, for example, Travelocity Toolbar or VisualBee Toolbar. The problem is that AppMarket Toolbar requires your consent in order for it to get installed on the computer, so you are the one who authorizes browser settings modification.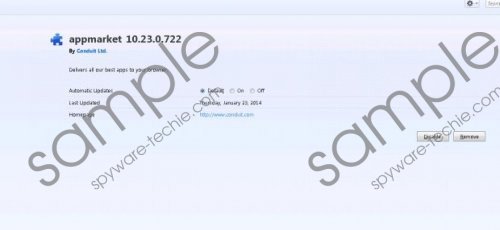 AppMarket Toolbar screenshot
Scroll down for full removal instructions
Therefore, to avoid unwanted changes you should read every step of software installation wizard carefully. Even if it was your intension to install AppMarket Toolbar on your computer, you should still choose what is best for you and your system.
However, in case you have not downloaded AppMarket Toolbar from appmarket.ourtoolbar.com and the application came bundled with other freeware, then you should definitely remove it from your computer, because constant exposure to third party content may result in undesirable consequences. The problem is that AppMarket Toolbar supports a lot of third party advertisements .You can see the flash ad right below the search box in search.conduit.com home page.
Unfortunately, AppMarket Toolbar does not review all the content that is embedded in its ads, and so if AppMarket Toolbar gets exploited by a malevolent third party, sooner or later you might end up clicking on a corrupted pop-up and then you would be only one step away from malware infection. Not to mention that this plug-in may also collect data on your web browsing habits. This type of data is necessary in order to provide you with relevant commercial advertisements, but it may also breach your privacy. Despite the fact that such information is not personally identifiable, it can still be leaked to third parties for marketing purposes, and you could be exposed to potentially dangerous content.
In order to remove AppMarket Toolbar from your computer, follow manual removal instructions below. If you have any further questions about this plug-in leave me a comment. Also, after manual removal, do not forget to run a full system scan with licensed antimalware tool, because you may need to remove some other potentially unwanted programs as well.
Manual AppMarket Toolbar Removal
Windows 8
Move mouse cursor to the bottom right of the screen.
Click Settings on Charm bar and then go to Control Panel.
Open Uninstall a program and remove AppMarket Toolbar.
Follow the instructions on Uninstall Toolbar pop-up to restore your browser settings.
Windows Vista & Windows 7
Open Start menu and select Control Panel.
Click Uninstall a program and remove AppMarket Toolbar.
Select the correct options on Uninstall Toolbar pop-up to restore your browser.
Windows XP
Open Start menu and click Control Panel.
Select Add or remove programs and uninstall AppMarket Toolbar.
When Uninstall Toolbar pop-up appears, mark the right options to restore browser settings.
Remove Conduit Search
Internet Explorer
Press Alt+T and click Manage add-ons.
Click Search providers on the left.
Right-click AppMarket Customized Web search and select Remove.
Mozilla Firefox
Click search icon on the left of Firefox search box.
Select Manage search engines from drop-down menu.
Remove AppMarket Customized Web Search from the list and click OK.
Google Chrome
Press Alt+F and click Settings.
Click Manage search engines under Search.
Set a new default search engine and remove AppMarket Customized Web Search. Press Done.
In non-techie terms:
AppMarket Toolbar is a browser plug-in that supports a lot of third party content via pop-up advertisements. It may result in potential malicious exploitation, so it would be for the best to remove AppMarket Toolbar from your computer right now.
Aliases: AppMarketToolbar.