Do you know what Anubis Ransomware is?
Anubis Ransomware is a new computer infection that immediately encrypts files it finds on the infected computer. Even though Anubis Ransomware is based on EDA2, which is known to be an open-source ransomware infection released for educational purposes and then used by cyber criminals to create new malware, it has received this name because it sets a new Desktop wallpaper that contains a picture of the Egyptian god Anubis after it finishes encrypting files with the encryption algorithm AES (it is very hard to decipher it). Ransomware infections do not make all those modifications just for fun. They just seek to obtain money from users, so they encrypt personal files, which are the most valuable, the moment they enter computers and then demand a ransom. Even though Anubis Ransomware does not immediately tell users about the ransom, it does not mean that it will not ask to make a payment. According to our team of specialists, it is very likely that it will tell you more about that when you write an email to them. Of course, if you are sure that you are not going to give cyber criminals a cent, do not even bother writing emails to cyber crooks. Instead, focus on the Anubis Ransomware removal right now and delete it as soon as possible.
Anubis Ransomware will find important personal files on your PC and then will encrypt them all. It will store the key that could help you to decrypt files on its C&C server. It will even download the image to set as Desktop background from there. The message on this image says that "at the moment all files on the computer are encrypted", and it contains two emails support.code@aol.com and support.code@india.com. A user is told to write an email to the address belonging to cyber criminals "to get your data and save time." The image set as Wallpaper is not the only file of Anubis Ransomware. It has been found that this infection also creates a new file called Decryption Instructions on Desktop. It does not have a filename extension, but it can be easily opened with Notepad. If you have already opened it, you have probably noticed that the message in it does not differ much from the one an image set as Desktop background contains. It informs users that they can decrypt their files only with the special private key that it stored on the server of the ransomware. Even though cyber criminals do not tell users that this key can be purchased from them, they will definitely mention that if a user writes an email. It does not matter this decryption key is cheap or expensive, we suggest that you do not spend your money on a tool that might not be even sent to you. Believe us; there are many cases when users do not get the key for unlocking files after they pay money to cyber crooks. Do not be one of them.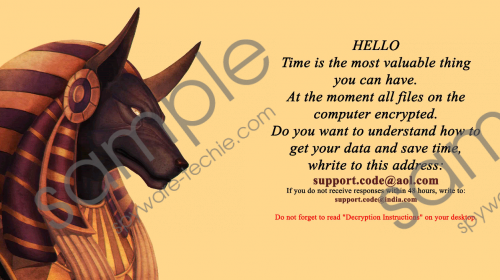 Anubis Ransomware screenshot
Scroll down for full removal instructions
It is very likely that it is your own fault that Anubis Ransomware has sneaked onto your computer and encrypted all the files by appending the .coded filename extension to all your files. As our team of specialists have found, it is very likely that users who allow this threat to enter their systems open an infectious email attachment. This attachment can be found inside the spam email they receive. Of course, it is made to look completely harmless, which explains why there are so many people who get infected with Anubis Ransomware after opening a spam email attachment. Be more careful in the future if you do not want to become a victim of malicious software once again and make sure you never open a spam email in the future.
As Anubis Ransomware blocks .exe files too, the security application installed on your PC is, most probably, blocked as well. Reinstall it or acquire a more trustworthy security tool, e.g. SpyHunter to delete Anubis Ransomware fully from the system. If it happens that you make a decision to remove the ransomware infection manually, you should use the step-by-step instructions that can be found below this article.
Delete Anubis Ransomware
Find and delete the malicious file you have launched before finding your files encrypted.
Delete it.
Remove the file Decryption Instructions from Desktop.
Set a new picture as your Wallpaper.
Clear the Recycle bin.
In non-techie terms:
If a ransomware infection has managed to enter your PC, you might have other untrustworthy programs on your computer as well. They usually work in the background, so the majority of users do not even know that they have undesirable software installed on their systems. The time for truth has come! Scan your PC with a diagnostic scanner to find out whether or not there are infections inside your system that need to be erased. If the scanner finds untrustworthy software, remove it as quickly as possible.