Do you know what Antivirussupport.in is?
If you ever visit Antivirussupport.in website, you will notice a number placed there. You will be encouraged to call it if you have some problems with your PC, want to speed up your system, or simply need to recover your data. Even though it might seem like a great opportunity to fix PC issues, we suggest that you do not call the given number. Our specialists have found out that it is not a trustworthy service. In fact, there is a possibility that this number is a premium-rate number and nobody will help you to solve problems if you call there. Specialists think that there is a possibility that you will be offered to buy some kind of expensive software only. We do not recommend doing that because there is a possibility that you will simply pay money and it will be useless.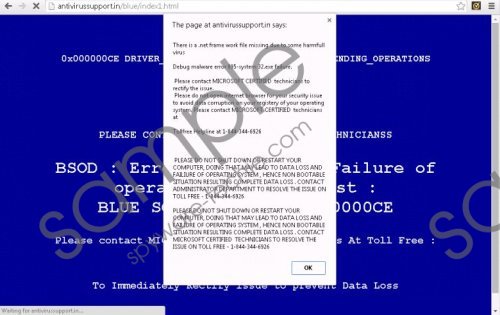 Antivirussupport.in screenshot
Scroll down for full removal instructions
Researchers have also found out that the program that displays warnings claiming that "There is a .net frame work file missing due to some harmful virus" also exist. It is likely that it is closely associated with Antivirussupport.in because it is mentioned in this message. According to our specialists, the program might be created to show warnings in order to convince users to call 1-855-746-0228. You might think that warning messages that you see on your screen are generated by some kind of malicious application because you will see a blue screen and it will be impossible to close this window; however, it is more likely that the unreliable program published by the company which owns Antivirussupport.in shows them. Do not worry; we will help you to close these messages and remove the malware responsible for their presence.
It seems that Antivirussupport.in cannot be trusted and it does not provide the reliable service, so you should better install a trustworthy antimalware tool on the system instead of calling the number placed on Antivirussupport.in website. You should keep the security tool always enabled if you want to prevent malicious software from entering the system.
It might be very difficult to detect the program that is responsible for warning messages. You can try to detect and delete it via Control Panel; however, it might be impossible to do that. Our security specialists think that you should definitely acquire SpyHunter or another reliable tool and then scan your PC in order to erase all the infections from your system. If you scan your system, there is basically no doubt that you will not see any messages claiming that your PC is infected ever again.
Remove Antivirussupport.in
Close the fake warning message
Right-click on the Task Bar and then select the Task Manager.
Access the list of Processes.
Select the suspicious process and right-click on it.
Click End Process to kill it.
Remove the undesirable program
Windows XP
Click the Start button.
Select Control Panel.
Click Add or Remove Programs.
Select the unwanted application.
Click Remove.
Windows 7 and Vista
Open the Start menu.
Select Control Panel.
Click Uninstall a program.
Right-click on the unwanted program.
Click Uninstall.
Windows 8
Tap the Windows key + R.
Enter control panel and click OK.
Click Uninstall a program.
Select the application that you wish to remove.
Click Uninstall.
In non-techie terms:
If you have managed to remove the suspicious program yourself and you do not see fake messages on your screen anymore, we still recommend that you scan your computer with an antimalware scanner because harmful threats might be hiding on your system.