Do you know what Antivirus Security 2013 is?
Such fictitious applications as Antivirus Security 2013 Virus Removal Guide cannot bring any benefit to your Windows system, and you should take care of this application's removal right away; otherwise, you could be quickly tricked into wasting tens of dollars onto an application, which will never delete malware or protect your personal data. The deceitful virus comes from the same family as AVASoft Antivirus Professional, and latent applications in this group all look the same and have same purpose to get your money. To accomplish the task, infectious tools are equipped with deceitful interface, mimicked Task Bar notifications and other elements, which have led an uncountable number of Windows users into giving up their money. If you do not want to become one of them, you should ignore any declarations or recommendations, and remove Antivirus Security 2013 Virus Removal Guide from your personal computer.
Once you understand that fictitious Antivirus Security 2013 Virus Removal Guide scanner does not detect truthful infections, and all security notifications are bogus, you will face two options to delete the infection. If you think you can remove the virus manually, without successfully accomplishing the task in the past, you are very wrong, and there is a high chance of you making mistakes, which could lead to more serious system's disruptions. So, if you have not dealt with malware before, install legal security tools, and have them delete Antivirus Security 2013 Virus Removal Guide automatically, without you having to worry about it any further.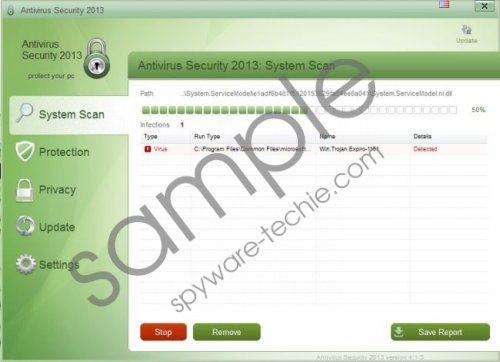 Antivirus Security 2013 Virus screenshot
Scroll down for full removal instructions
In non-techie terms:
If you are certain with your skills and knowledge, continue with the guide below, and be extra attentive to all files, processes and registry entries that need to be removed or terminated, because one single mistake could help the virus regenerate.
Aliases: Antivirus Security virus.