Do you know what Antivirus Pro 2017 is?
Cyber criminals are not wasting time, and they have created yet another rogue anti-malware program, Antivirus Pro 2017. Even though you might be completely unfamiliar with this program, our research team is familiar with Antivirus Pro 2015, Defender Pro 2015, Antivirus Plus 2014, and other malicious, fake AVs from the same group. Note that we have created separate removal guides for users who are dealing with these threats, and you must have stumbled upon this article when looking for removal tips that could help you delete Antivirus Plus 2014. We are sure that you will know exactly what to do with this infection if you continue reading this report. Keep in mind that you can always start a discussion about the removal of Antivirus Pro 2017 if any questions arise.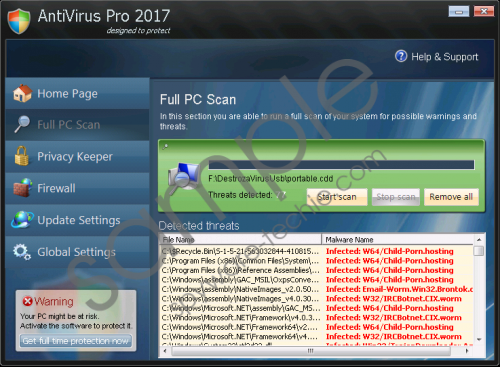 Antivirus Pro 2017 screenshot
Scroll down for full removal instructions
Since Antivirus Pro 2017 comes from the infamous Braviax family, it is not surprising that this rogue works the same as other infections from the same faction. Unfortunately, this fake AV can be very disruptive. For example, you might discover that you cannot launch Task Manager, Registry Editor, and similar Windows utilities that, generally, can be helpful when removing malware manually. Needless to say, this is meant to stop you from removing Antivirus Pro 2017 as well; however, this serves another purpose as well. The malicious Antivirus Pro 2017 initiates a fake system scan and delivers fake results to convince you that your operating system is under an attack. Some users link the inability to operate their PCs with the infections that the rogue showcases. We cannot stress enough how misleading this rogue is, and all information presented by it should be disregarded!
According to our malware researchers, there is a license key (Y65RAW-T87FS1-U2VQF7A) that you can use to register as a licensed user. This should trick the program into treating you as a legitimate user, due to which the paralysis of your Windows operating system should be disabled. Needless to say, this does not mean that you do not need to remove Antivirus Pro 2017 from your operating system. In fact, you must delete Antivirus Pro 2017 even if you have been tricked into purchasing its worthless malware removal tool. This tool is as fictitious as the scanner, and it can only mimic the removal of non-existent threats. Needless to say, it cannot protect you from real and dangerous computer infections.
You should not postpone the removal of Antivirus Pro 2017 for any longer. The manual removal is complicated, and, even if you apply the license key successfully, you might have trouble deleting all malicious files and registry keys yourself. Not many computer users are experienced enough to delete Antivirus Pro 2017 by themselves, which is exactly why we advise installing an automatic malware removal tool. Keep in mind that your operating system was infected with Antivirus Pro 2017 because it was vulnerable, and automated malware removal software can patch all vulnerabilities. This way corrupted spam emails, and infected downloads will not be used to infect your operating system again.
Remove Antivirus Pro 2017
Remove from Windows XP
Restart your PC.
Wait for the BIOS screen to load.
Immediately start tapping F8 (on keyboard).
Select Safe Mode with Networking.
Tap Enter.
Click Yes on the Windows is running in safe mode alert.
Download an automated malware remover from http://www.spyware-techie.com/spyhunter .
Install the program and scan your PC.
Click Fix Threats to delete malware.
Remove from Windows 8.1 or Windows 8
Access the Metro UI.
Click the Power Options button for more options.
Click Restart while holding the Shift key on your keyboard.
Select Advanced options and click Startup Settings.
Click Restart and select F5 (Safe Mode with Networking).
Visit http://www.spyware-techie.com/download-sph and save the installer.
Install the automated malware remover and scan your PC.
Click Fix Threats to delete malware.
N.B. Use the instructions below to delete Antivirus Pro 2017 from Windows Vista and Windows 7.
In non-techie terms:
Antivirus Pro 2017 is a very dangerous infection that can lure out your money for no good reason. This rogue was created by schemers who are not willing to give you anything in return for your money. By purchasing the fake license of a useless malware remover, you will lose your money, and your credit card information will be recorded for other scams. There is nothing else to do but delete Antivirus Pro 2017, and the removal instructions above and below will help you.