Do you know what Antivirus Plus 2014 is?
It has been discovered that Antivirus Plus 2014 is a fake antispyware program. It can enter the system via fictitious online scanners to which you may be routed after clicking on infected links. Alternatively, the threat could be downloaded by an infection which is running on the PC. In this case the malicious rogue could lurk within the system without presenting any visible symptoms; however, once it attacks you will not be able to miss it. The threat is represented through a truly convincing scanner which starts examining your PC as soon as the rogue is released. This is why some affected computer users do not even think about getting Antivirus Plus 2014 deleted from their systems. Of course, the removal of the threat is absolutely necessary, and so you should continue reading the report to learn all the tricks.
Have you heard of Braviax rogue anti-spyware tools? Alongside Smart Security, Vista Antivirus Pro 2013, and tens of other rogues this is the faction to which Antivirus Plus 2014 belongs as well. As our expert Windows security researchers have revealed, the clandestine infection can block system executable files. Do you know what this means? If you do not delete the rogue in time it could ensure that you cannot run your PC normally unless you purchase the full version of a fictitious malware detection/removal tool. In a sense this tool works like a ransomware; however, if you pay the money your PC will remain infected with dangerous malware. Therefore, following any instructions provided by the fake AV is not recommended. You certainly should ignore all fictitious pop-ups warning you about allegedly attacking threats which you need to delete, or recommendations to activate bogus malware removal software. Here is an example:
FIREWALL WARNING
Hidden file transfer to remote host has been detected
Antivirus Plus 2014 has detected a leak if your files though the Internet. We strongly recommend that you block the attack immediately.
Since the rogue is fictitious and cannot provide you with authentic malware removal or Windows security services you should delete it from the PC as soon as possible. If you just ignore the program you will not achieve anything and your computer will continue running in a strange manner. Since the threat can block executables you will find that it is extremely difficult to remove Antivirus Plus 2014 manually. Due to the restricted access to the Internet you will also have difficulties installing legitimate automatic malware detection and removal software. Since this is the best removal option you have we have prepared the instructions which will help you delete the threat from the operating Windows system.
How to delete Antivirus Plus 2014?
Delete from Windows XP:
Restart the PC, wait for BIOS screen to disappear and start tapping F8.
Using arrow keys select Safe Mode with Networking and then tap Enter for confirmation.
As the PC boots you may discover a Desktop alert regarding safe mode – click Yes.
Move to the Task Bar, click the Start icon and launch RUN.
To access the System Configurations Utility type in msconfig and click OK.
Click the Startup tab, un-check all listed items and click OK.
Launch a browser and go to http://www.spyware-techie.com/download-sph .
Download the automatic malware detection and removal application.
Once the program is installed scan the PC and delete discovered malware.
Delete from Windows Vista & Windows 7:
Repeat steps 1-2 from the removal instructions above.
Visit http://www.spyware-techie.com/download-sph and click the download button.
Install the authentic malware remover onto the computer.
Remove discovered malware and ensure that Windows protection is enabled.
Delete from Windows 8:
Tap the Windows key on the keyboard to access the Metro UI menu.
Launch a browser of your choice and go to http://www.spyware-techie.com/download-sph .
Install the program and use it to delete all existing malware.
In non-techie terms: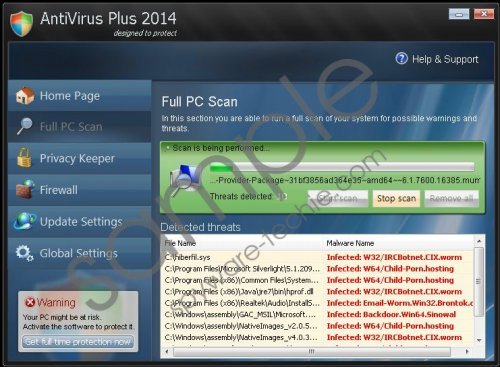 Antivirus Plus 2014 screenshot
Scroll down for full removal instructions
Antivirus Plus 2014 is a rogue antispyware which pretends to be an authentic security tool for your operating Windows system. Even though the application scans the PC and presents you with allegedly attacking malware, we can guarantee that these false positives are not worth any of your attention. You certainly should not waste any money on the licensed version of this tool because it is completely worthless. It is a must that you remove Antivirus Plus 2014 from the system and the instructions above will help you perform the task quickly and successfully.
Aliases: Antivirus Plus virus.