Do you know what Antivirus 10 is?
Antivirus 10 is a rogue antispyware application that comes forth with the intention to steal your money. This program will try to pass for a legitimate security application, but you will do yourself a favor if you remove it from your computer immediately. Such computer infections were prevalent several years ago, and it seems that somebody is trying to use the same tactic again, to make some easy money. You should not fall into this trap because doing what you are told by a rogue antispyware program leads to severe computer security problems.
Rogue antispyware programs have been quite prominent a few years back because of their ability to trick unsuspecting users into thinking they could solve everybody's security problems. However, as you can probably tell, programs like Antivirus 10 look very much like a regular antivirus application, so if users are not too familiar with the most popular security tools in the market, they might mistake this program for something legitimate. What's more, even if they do not believe that Antivirus 10 is the real deal, some users might feel compelled to spend money because they are too scared to think of anything else. Either way, when you get infected with a rogue antispyware application, you should never resort to spending your money on it.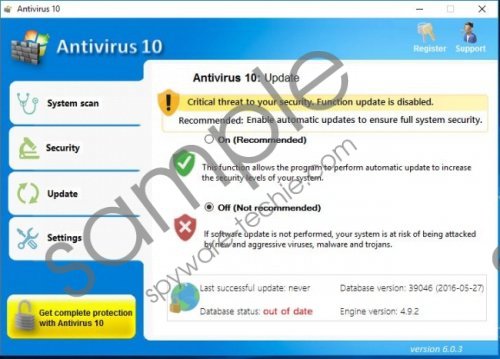 Antivirus 10 screenshot
Scroll down for full removal instructions
Our research lab team says that Antivirus 10 might be spreading bundled with freeware and third-party installers. So when you download new programs from unknown websites, you should be aware of all the potential threats that might enter your system with these apps. In other words, it is not safe to indulge in freeware installation, especially if you do not know who uploaded a particular installer on a file-sharing site. It is not just this rogue antispyware application that might enter your system. You could end up installing multiple unwanted applications that could eventually destroy your computer.
When Antivirus 10 is launched, the program runs a full system scan. Needless to say, the scan is fake, and this method is commonly used by almost all rogue applications out there. The scan is there to make you think that your computer is severely infected with malware. If you decide to ignore this scan and close the program's window, you would be still reminded of it all as Antivirus 10 will display a lot of random and annoying pop-ups, indicating that your computer is at risk. For example:
Network attack detected!

Trojan.RemoteSpy is suspected to have infected your PC.
This type of virus collects users data and sends it to remote attacker server.
The reason some of those pop-ups may seem legitimate is that the infection uses the names of actual computer threats. The Trojans and backdoor Trojans used in the notifications are real, and you can find out more about them if you were to run a web search on them. However, it does not mean they have entered your computer. Antivirus 10 just wants to make you think that you have no other way out of this situation, but to purchase the full version of the program and remove the infections automatically.
Of course, there is always a way to get rid of a rogue antispyware program, you just need to bypass the annoying pop-ups to get down to business. Thankfully, this program does not block your screen or your programs, so you can still access all of your system utilities. Therefore, you can close the program's process via Task Manager. It is also possible to remove Antivirus 10 manually, but it is not recommended unless you are an experienced computer user.
We have come up with the manual removal instructions that you can find below the description. Also, please do not forget that you may have many other uninvited guests on your computer because Antivirus 10 probably came bundled with freeware.
To determine which programs must be terminated, you should run a full system scan with a licensed antispyware tool. After that, keep the tool to safeguard your system from similar infections in the future. It is always a good idea to rely on a legitimate tool that would inform you about the potential threats when you encounter them.
How to Delete Antivirus 10
Press Ctrl+Shift+Esc and Task Manager will open.
Click the Process tab and highlight the AV10PRT.exe process.
Press End Process and exit Task Manager.
Press Win+R and type regedit into the Open box.
Click OK and go to HKEY_CURRENT_USER\SOFTWARE\Microsoft\Windows\CurrentVersion\Run.
Right-click the SecuritySoft value on the right pane.
Delete it and close Registry Editor.
Open your Downloads folder and remove the most recently downloaded file.
In non-techie terms:
Antivirus 10 may look like a reliable security application, but it is after your money. It will trick you into giving away your credit card numbers and other sensitive data if you do not remove right now. If you think that you cannot delete Antivirus 10 on your own, you should use a powerful security application for that. Should you have more questions about computer security or how to deal with this rogue, feel free to leave us a comment.