Do you know what Antimalware is?
If your personal Windows system has been infected with Antimalware, there is no doubt that your PC is vulnerable to clandestine computer threats. Trojans, worms and malicious viruses could be running on your personal computer without any of your knowledge right when you are reading this. Needless to say, your main worry right now is the fictitious anti-spyware application claiming that you need to purchase its full-version in order to ensure Windows protection and malware removal. Have you noticed the scanner represented by this rogue? Even though it is indicated that different malware downloaders, password stealers and other type of infections are running on the PC, in reality the main threat that you need to delete is Antimalware. Please continue reading to learn more about the removal of this infection.
It has been discovered that Antimalware is extremely successful, and we can guarantee that the interface of the fictitious security tool has a lot to do with it. The clandestine infection uses the Windows logo and seemingly-authentic services (e.g. Scan or Personal Security) to convince you that it is legitimate and that it can help you delete malware. Do you know what would happen if you purchased the full-version of this fictitious malware remover? The scanner would detect no more threats; however, in reality, different Windows security vulnerabilities would be exposed. Needless to say, this could be used to infect your PC even more! Therefore, registering for the rogue is not something that you should do.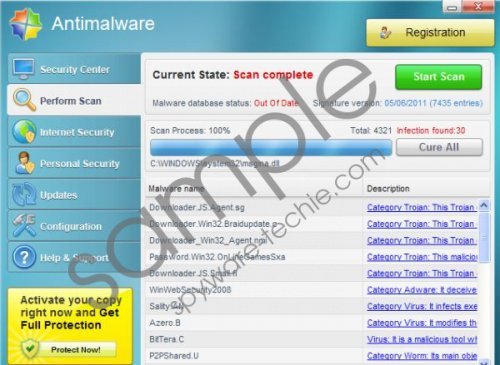 AntiMalware screenshot
Scroll down for full removal instructions
Besides the misleading scanner reports your desktop will be bombarded by various pop-up notifications, and this is something that drives other rogues from the WinWebSec family as well. Are you familiar with Security Cleaner Pro, Sinergia Cleaner or Antivirus Security Pro? Without a single doubt, you should delete these applications if you have noticed them scanning your computer and recommending immediate malware removal. Unfortunately, the pop-ups linked to these rogues come from the Task Bar, which is why many confuse them with authentic Windows notifications.
If you are unable to run most executable files, connect to the Internet, delete malware using Task Manager or Registry Editor, and a suspicious, unfamiliar scanner is inspecting your personal computer – install automatic malware detection and removal software right away. Unfortunately, these are the symptoms which are linked to the mischievous Antimalware rogue, which is why the removal of this infection may seem extremely difficult. In order to begin the necessary removal operations you firstly should release your PC from all of these dysfunctions. You can utilize the license key below to achieve this.
License key:
YKGVWHVSFETPXBIMDXUJSUYGPRADAOHZ
In non-techie terms:
Antimalware is a malicious rogue anti-spyware which pretends to be a legitimate Windows security tool just to trick you into purchasing the full-version of a malware remover which is absolutely useless. The clandestine, fake AV initiates various symptoms which you can eliminate using the special license key displayed above. As soon as the key is activated and all symptoms are disabled – click the download button below and install the reliable malware remover SpyHunter. If you are confident about your manual removal knowledge – use the information below to delete Antimalware from the computer manually.
Aliases: Anti malware.