Do you know what AnaSayfa.im is?
AnaSayfa.im is a search engine that might replace your homepage without your permission. Even though it seems rather decent, we do not recommend trusting it blindly because it has replaced the homepage of your Internet Explorer, Google Chrome, and Mozilla Firefox rather unfairly. Even though AnaSayfa.im seems like a useful search engine because it provides links to such websites as Facebook, Twitter, and YouTube as well as allows computer users to search for internet radios and different kinds of videos, you should still not keep it on your system because this search engine might still cause some harm to the security of your system. If you have tried removing it yourself but it has still revived, we suggest that you read the article and find out how to eliminate it entirely.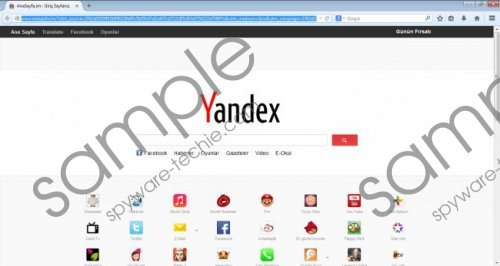 AnaSayfa.im screenshot
Scroll down for full removal instructions
Even though AnaSayfa.im seems like a normal search engine, we still recommend being cautious because it might still cause you some harm via third-party links. For instance, even though all these icons placed on your startup page might seem useful, there is still a slight possibility that you will end up on unreliable website if you click on any of them. Of course, not all of them will take you to suspicious websites; however, we still recommend being cautious. If it happens that you are eager to protect your computer from any kind of infections, you should know that it is better to get rid of AnaSayfa.im and then set another reliable homepage.
The researchers of spyware-techie.com have implemented a research in their internal lab and found out that AnaSayfa.im might replace your homepage if you do not un-tick the checkbox in the Flash Player downloader that can be downloaded from tvizleyin.com. As you can see, it is very important to read all the provided information during the installation of new applications. Besides, it is advisable to download them from official websites only. For instance, if you need Flash Player, you should visit get.adobe.com, but definitely not click on the ads that will be placed for you on torrent and file-sharing websites.
In order to get rid of AnaSayfa.im and set your preferred homepage, you should follow the instructions provided below the article. They will help you to remove this search engine from all of your browsers. In order not to allow suspicious software enter your system in the future, we advise that you keep an antimalware tool enabled all the time.
How to get rid of AnaSayfa.im
Internet Explorer
Right-click on the shortcut.
Select Properties.
Open the Shortcut tab.
Delete the address placed after a comma and then click OK.
Mozilla Firefox
Right-click on the shortcut of your browser.
Select Properties and then open the Shortcut tab.
Locate the Target line and then delete the address.
Click OK.
Google Chrome
Right-click on the shortcut of Google Chrome. Click Properties.
Click on the Shortcut tab.
Change the Target line by deleting the additional address.
Click the OK button.
In non-techie terms:
If you have managed to get rid of AnaSayfa.im, you should know that it is worth checking whether other undesirable programs are not residing on your system. The easiest way to do that is to scan the system with an automatic scanner, which is why we recommend downloading SpyHunter and launching it scanner.