Do you know what AlphaShoppers is?
AlphaShoppers is a new browser extension which, at the time of writing, works on Google Chrome only. Our team of experienced specialists has immediately noticed that it shares similarities with such applications as Chipopo and Sadooma, so it was not hard for them to choose an appropriate category for it. AlphaShoppers was classified as a potentially unwanted program (PUP) by researchers not without reason. Potentially unwanted applications are usually not considered the malicious software, but it, of course, does not mean that they are fully trustworthy and cannot perform any undesirable activities on users' computers. Find out what specialists have to say about AlphaShoppers and then make a decision whether or not it is worth keeping it installed yourself.
We do not blame those users who go to get AlphaShoppers from the Chrome Web store (https://chrome.google.com/webstore/detail/alpha-shoppers/lfcnefjjpegbafdlhielmkkadnmdekhp) or its official website alphashoppers.co because it promises to let users know about the best deals and available offers. Evidently, it targets users who shop online primarily. Since there are thousands of people who do that these days, AlphaShoppers might quickly become a very popular piece of software. Even though this program claims that it can "give you direct access to all your favorite products, deals, websites, and more", in reality, it only changes users' homepages and New Tab URLs. Since it is compatible with Google Chrome for now, changes are applied to this browser only. The page users see contains quick access buttons that should allow them to open such websites as amazon.com, bestbuy.com, and others with the click of a button. At the bottom, users see coupons. They, of course, redirect straight to third-party pages too if a user clicks on them. Last but not least, there is a search box situated in the middle of this page. At first glance, it might seem that it is working quite well because it returns search results based on the entered search query. Unfortunately, the truth is that all the searches are redirected to http://api-client.mobitech-search.xyz, and then users are provided with the modified search results. They, of course, immediately open third-party pages. According to our security specialists, there is a risk that not all these promoted websites are trustworthy, which suggests that users might end up on bad web pages too if they use this search box to search for the information on the web. As can be seen, AlphaShoppers has more disadvantages than advantages, so it would be smart to replace it with another tool designed for online shoppers.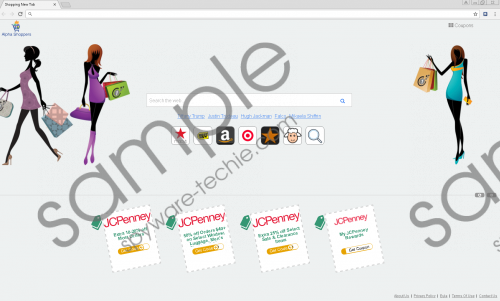 AlphaShoppers screenshot
Scroll down for full removal instructions
AlphaShoppers has been categorized as a potentially unwanted program because of the way it is distributed too. Despite the fact that it can be downloaded from its official source (alphashoppers.co) or the Chrome Web store, it might be disseminated using other not so legal methods of distribution. First of all, according to malware analysts, it might be disseminated in software bundles like similar applications. Simplistically speaking, AlphaShoppers might travel together with free applications (e.g. file converters and torrent clients) users willingly download from the web. Because of this reason, users often do not even notice how and when it enters their computers. Frankly, bundling is not the only method employed by the developer of AlphaShoppers to distribute its product. Researchers say that clicking on a certain pop-up advertisement might result in the automatic installation of AlphaShoppers as well, so it is highly advisable to ignore ads which you come across on dubious third-party websites. We know that it might be extremely hard for ordinary users to protect their PCs from malicious software alone, so we also recommend installing a powerful antimalware tool. It will ensure the maximum protection of your personal computer.
AlphaShoppers will leave your system alone after you go to remove its extension. Most probably, only Google Chrome will be affected, so it should be enough to delete this extension from its list of add-ons. Go to check extensions added to other browsers, i.e. Mozilla Firefox and Internet Explorer too if you have them installed on your PC.
Delete AlphaShoppers
Google Chrome
Open your browser and click on the top-right corner button with three vertical dots.
Select More tools.
Open Extensions.
Select the undesirable extension.
Click on the Recycle bin button.
Confirm the removal by clicking on the Remove button in the pop-up window.
Mozilla Firefox
Open Mozilla Firefox.
Press Ctrl+Shift+A.
Open the Extensions menu.
Delete the undesirable extension.
Internet Explorer
Go to the Tools menu after opening your browser.
Select Manage add-ons.
Click Toolbars and Extensions.
Find the add-on belonging to AlphaShoppers.
Delete it.
In non-techie terms:
Scanning the computer with an automatic scanner is also highly recommended after the deletion of AlphaShoppers because there are no guarantees that there are no other active malicious programs on the system. Keep in mind that only a fully trustworthy scanner can detect all bad programs, so do not use suspicious scanners or tools promoted on P2P web pages. 99% of them are not only useless, but also modified by cyber criminals.