Do you know what AllTubeNoAds virus is?
AllTubeNoAds virus is another common application that is marketed as a program that allows users to eliminate adverts on YouTube videos. There are quite a few applications like that: YTBlockerApp, TubeAdBlocker, UTUobEAdaBlock, etc. Frequent YouTube users are often misled by their statements and might think that the application could be quite useful. On the contrary, AllTubeNoAds virus will not stop the adverts within YouTube videos; it does quite the opposite because it is an adware application.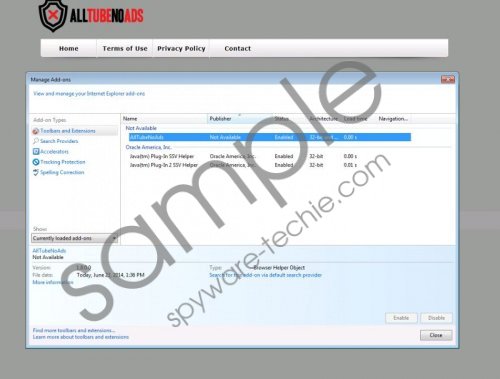 AllTubeNoAds virus screenshot
Scroll down for full removal instructions
AllTubeNoAds virus is compatible with all major web browsers out there – Mozilla Firefox, Google Chrome, Internet Explorer. Thus, even if you decide to change your default browser, annoying features of this adware will remain. The only way to avoid these dubious activities is to remove AllTubeNoAds virus as soon as possible. In order to do that easily, our skilled team of malware experts has put up a detailed removal guide that is included below the article.
As soon as AllTubeNoAds virus infiltrates your operating system you are flooded with third-party adverts and annoying pop-ups. Instead of reducing commercial advertisements on one particular website you are flooded with pop-up ads all the time on numerous websites whether you want it or not. The application itself is not harmful or aggressive, butour team at spyware-techie.com firmly advises you to remove it right away because adverts could contain redirect links to unknown third-party websites.
Often adware vendors do not tend to review their third-party associates as long as they get paid. Thus, associates could turn out to be shady to say the least. It is known that cybercriminals often set up deceptive websites that might imitate a recognizable web page in order to fool the user to make bogus purchase, hence, giving up sensitive credit or debit card data. A professional antimalware tool is capable of recognizing malicious websites, thus running it on your system is strongly advised if you want to avoid getting your system infected.
Furthermore, a trustworthy antispyware tool is capable of detecting and removing dubious installers that programs like AllTubeNoAds virus are distributed via. Our team noticed that in most cases AllTubeNoAds virus comes bundled with DomaIQ installer that is well-known for distribution of questionable applications. Avoiding bundled installers is easy as long as you dedicate time to read everything that is displayed on the setup screen. Often you could be presented with an opportunity to disable the installation of any additional application.
AllTubeNoAds virus should be removed from your operating system as soon as possible. It is not because adware applications are harmful and dangerous by themselves, but because they are often used by cyber crooks as a gateway to implement other internet-based infections. These infections could turn out to be extremely harmful not only to your operating system but to your finances as well. To remove AllTubeNoAds virus carefully follow the guide below. But remember that you should scan your system after the manual removal process in order to remove every last bit of a malicious application.
How to remove AllTubeNoAds virus from your PC
Remove from Windows 8
Tap Windows key+Q and type Control Panel into a search box.
Tap Enter.
Select Uninstall a program.
Select and remove AllTubeNoAds virus.
Remove from Windows 7 and Windows Vista
Tap the Windows key and select Control Panel.
Select Uninstall a Program.
Locate and uninstall AllTubeNoAds virus.
Remove from Windows XP
Click the Start button.
Select Control Panel.
Click Add or Remove Programs.
Find and remove AllTubeNoAds virus.
How to delete AllTubeNoAds virus extension
Remove from Google Chrome
Hit Alt+F simultaneously.
Select Settings.
Click Extensions.
Select and delete AllTubeNoAds virus extension.
Remove from Mozilla Firefox
Hit Alt+T simultaneously.
Select Add-ons.
Select Extensions.
Delete AllTubeNoAds virus.
In non-techie terms:
With cybercrime on the rise, it is crucial to invest into a licensed antimalware tool. Otherwise, the operating system is left vulnerable at all time, and all the data is at great risk. Not only infections like AllTubeNoAds virus can enter the system. Infections that are designed to steal sensitive data enter the systems of unsuspecting users on a daily basis. If you are interested in our suggestion follow the instructions below.