Do you know what AllstarAdBlocker is?
AllstarAdBlocker is free browser add-on for those computer users who want to browse the Internet without being provided with annoying pop-up advertisemtns. But is it really so? The AllstarAdBlocker browser add-on falls into the category of adware because, after installing this program, the user may be provided with third-party advertisements, in which case the program loses its functionallity. There is no need to install a program that causes more trouble, and we recommend that you remove AllstarAdBlocker, especially if it disturbs you with different types of advertisements.
AllstarAdBlocker is based on the JustPlugIt engine, which is already known to security experts due to a variety of very similar browser add-ons analyzed earlier this year. For example, the JustPlugIt browser add-on creation was used to create RealDeal, TicTacCoupon, LuckyCoupon, and many other programs. This browser add-on creation platform enables software developers to create programs that are compatible with Internet Explore, Google Chrome, and Mozilla Firefox.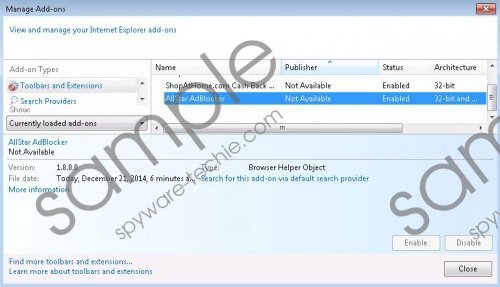 AllstarAdBlocker screenshot
Scroll down for full removal instructions
It has been observed that programs based on JustPlugIt usually have their official websites, and AllstarAdBlocker is known to be promoted at allstarblocker.info, which is not available at the moment of writing. If you are sure that you have not acquired this browser add-on from the official website, it signifies that you have installed it alongside other free programs, such as media players, other browser add-ons, etc. In order to prevent this from happening in the future, you should pay more attention to software installation. More specifically, you should be more attentive to the information provided by the installation wizard so that you do not have to remove unwanted programs afterwards.
Not only does AllstarAdBlocker display various ads, but it also monitors your online behaviour. It may record your clicks, impressions, search terms, browsing history, and some other anonymous information. If you do not want to risk your privacy, you should remove AllstarAdBlocker from the computer right now. This advertising-supported program might record your name, email address, and other information that may help third parties to indentify you or provide you with personalized advertisements.
Below you will find our instructions on how to remove AllstarAdBlocker, but we recommend that you implement SpyHunter. This security program easily removes AllstarAdBlocker and safeguards the system against multiple threat, such as Trojan horses, ransomware, adware, rootkits, etc., so take action right now.
How to remove AllstarAdBlocker
Windows Vista and Windows 7
Open the Start menu.
Click Control Panel.
Select Uninstall a program.
Remove the AllstarAdBlocker program.
Windows XP
Click Start.
Select Control Panel.
Click Add or Remove Programs.
Uninstall the AllstarAdBlocker adware program.
Windows 8
Move the mouse pointer to the lower-left corner of the screen.
Right-click on the pop-up window and select Control Panel.
Click Uninstall a program and remove the adware program.
In non-techie terms:
AllstarAdBlocker is a free browser add-on which is supposed to protect you against various advertisements, but, instead of protection, it provides the user with new third-party ads. If you do not want to remove the AllstarAdBlocker program on your own, use the instructions provided below to install our recommended scanner. If necessary, invest in the program to have the detections deleted.