Do you know what Allinsearch.com is?
We want to inform you that Allinsearch.com is not only a search engine — it is also a browser hijacker, and we suggest that you remove after you finish reading this short description. This website address has been classified as a browser hijacker, because it replaces the default browser homepage to its promoted address and may take measures against you trying to change it back to your browser's previous default homepage. Our malware analysts have found that Allinsearch.com is likely to display unreliable search results as they may be injected with promotional links and advertisements. Please continue reading for a more detailed analysis.
You may be surprised to know that Allinsearch.com was developed by the same company that created Resultforquery.com. Our researchers suggest that this is just the beginning of an entirely new family of browser hijackers. We cannot stress enough that Allinsearch.com is not a search engine. Here is a quote found on this hijacker's website. "All in Search are firmly positioned as global leaders in search engine marketing and web traffic generation. Founded on the vision that no goal is too ambitious, All in Search has evolved into a leading global provider of search-based advertising to publishers globally." So the only reason why this hijacker even exists is to promote third-party content by deceptively including it in its search results. Obviously, only this hijacker's developers and clients benefit from this. You on the other hand have the inconvenience of dodging potentially malicious websites.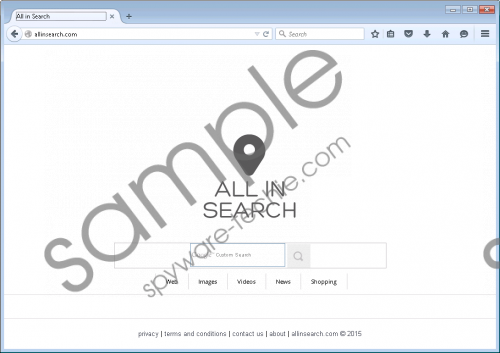 Allinsearch.com screenshot
Scroll down for full removal instructions
Even though Allinsearch.com is considered a browser hijacker, it actually does not perform the hijacking part. It comes bundled with other software and it is the bundled installer that does all of the work. Our researchers say that you will not even know when Allinsearch.com will be set as your browser's homepage as it comes secretly. So our suggestion is that you avoid downloading bundled software from unfamiliar sources. It is difficult to pin point the exact websites that distribute this hijacker, because they constantly change.
Once you run the installer of a software bundle that contains Allinsearch.com, it will automatically change your browser's homepage without prior warning. Note that this hijacker is supported by Mozilla Firefox, Google Chrome and Microsoft Internet Explorer. Thankfully, it does not affect Microsoft Edge, which just goes to show how well Microsoft designed that web browser. In any case, you do not have to change your browser in order to get rid of Allinsearch.com. Our researchers say that changing your homepage address may be enough to get rid of it. However, in some cases it may be tricky to delete, but our researcher say that resetting your browser's to default settings will do the trick.
As you can see, Allinsearch.com comes from a shady background and already has one clone with more soon to come. Its primary objective is to generate web traffic to its promoted websites, and thus generate revenue for it developers. We are not in favor of modified search results as they may contain links to unreliable websites. If you ate struggling to remove Allinsearch.com from your browser, then please have a look at our removal guide located below.
How to remove Allinsearch.com
Microsoft Internet Explorer
Tap Alt+T and click Internet Options.
Open the Advanced tab and click Reset.
Select the checkbox.
Click Reset and then click Close.
Done.
Mozilla Firefox
Tap Alt+H and click Troubleshooting Information.
Click Refresh Firefox.
In the dialog box, click Refresh Firefox again.
Click Finish.
Done.
Google Chrome
Tap Alt+F and choose Settings.
Select Show Advanced settings.
Click Reset settings and click Reset again.
Done.
In non-techie terms:
Allinsearch.com is considered a browser hijacker, because it will change your browser's homepage without your consent and may take measures that will prevent you from modifying the homepage address. It is also apt to display commercial ads and various other promotions inside its search results that can be unreliable and somewhat dangerous. So if you want to remove Allinsearch.com please do so with the help of our guide.