Do you know what AllInOneDocs Toolbar is?
AllInOneDocs Toolbar might appeal to you if you do not have an office suite using which you could create documents and presentations. The AllInOne Docs tools were created by ZOHO, not by Mindspark Interactive Network, Inc. (the creator of the toolbar) or MyWay (the creator of the search tool linked to the toolbar). When you install the app, it changes the New Tab, as well as your homepage (if you use Firefox and Internet Explorer), and in the top-right corner of the interface you are introduced to the ZOHO logo with a question mark next to it. If you click it, you are provided with links routing to Terms of Use and Privacy Policy statements. Note that these are unique, and the toolbar itself follows the privacy policies of Mindspark. Needless to say, you should review both before you install the utility. If you have found this report, you might have decided on the removal of AllInOneDocs Toolbar already. If you are only interested in that, use the instructions added below. If you want to learn more about the toolbar, read the report first.
The official sources for AllInOneDocs Toolbar include allinonedocs.com/index.jhtml, as well as Chrome web store (chrome.google.com/webstore/detail/allinonedocs/mffembddmldpdmainnabfhhcddgjcmdc). If you acquire the toolbar from either of these sources, you will not let in any other suspicious pieces of software, besides MyWay, of course, because it is integrated into the toolbar itself. Although all Mindspark toolbars (including OnlineRouteFinder Toolbar, DigiSmirkz Toolbar, and MyCalendarPlanner Toolbar) are represented via official sources, in many cases, users find them spread by third-party software distributors. As you might know, malicious parties could exploit the seemingly beneficial program to push users into installing a bunch of useless or even malicious infections along with it. If that has happened already, you need to identify and delete them immediately. Inspect your operating system using a trusted malware scanner, and soon you will know if you need to remove any other suspicious programs. If you are determined to get rid of them manually, make sure you check out the guides on our website.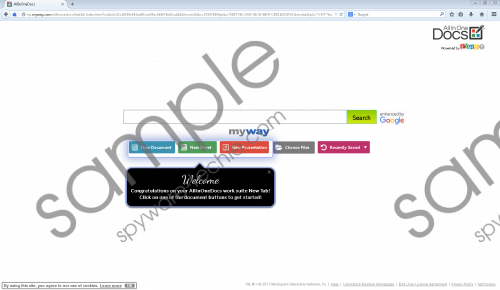 AllInOneDocs Toolbar screenshot
Scroll down for full removal instructions
AllInOneDocs Toolbar forces you to change the homepage on Firefox and Internet Explorer browsers, and that is the first sign that it might be unreliable. Furthermore, this potentially unwanted program introduces you to a suspicious search tool that supposedly is "enhanced by Google." Even if it uses the Google search engine to deliver results, this search provider is not very reliable because it also displays advertisements. Needless to say, we advise ignoring them. In fact, we advise removing the toolbar altogether. After all, you can easily install a reliable office suite without having to compromise your web browsing experience. Unfortunately, you cannot separate the suspicious search tool, from the suspicious toolbar, and so we advise removing them together. If you choose to keep it installed, think about using security software to ensure that you are safe at all times, even when you interact with suspicious search results.
The guides below show how to delete AllInOneDocs Toolbar from your browsers. As you can see, you need to eliminate extensions representing this toolbar from Chrome and Firefox browsers, but you need to uninstall an application if you have installed the toolbar for your Internet Explorer browser. All in all, it is fairly easy to get rid of this potentially unwanted program. The elimination of third-party software might be more complicated. As we discussed previously, a legitimate malware scanner can help you discover unreliable software. If it exists, you either need to delete it manually, or you have to install anti-malware software that can eliminate it automatically. We suggest the latter option.
Remove AllInOneDocs Toolbar
Google Chrome
Launch Windows Explorer by tapping Win+E keys.
Enter %LOCALAPPDATA%\Google\Chrome\User Data\ (or %UserProfile%\Local Settings\Application Data\Google\Chrome\User Data\) into the bar at the top.
Open the Default folder and then open the Extensions folder.
Delete the folder called jjnjenbcnpikfepkijmdhimfceiogkgm.
N.B. If multiple Chrome profiles exist, you need to open your profile folder instead of Default.
Mozilla Firefox:
Launch Windows Explorer by tapping Win+E keys.
Enter %APPDATA%\Mozilla\Firefox\Profiles\ into the bar at the top.
Open the Firefox profile folder with random characters in the name.
Move to the extensions folder and Delete the file named _iwMembers_@free.allinonedocs.com.
Internet Explorer: Uninstall the undesirable application as shown in the guide below.
Windows XP:
Click Start on the Taskbar.
Open Control Panel.
Double-click Add or Remove Programs.
Remove the undesirable application.
Windows Vista/Windows 7/Windows 8/Windows 10:
Launch RUN by tapping Win+R keys.
Enter control panel to open this menu.
Move to the Uninstall a program menu.
Right-click and Uninstall the undesirable application.
In non-techie terms:
If you believe it is in your best interest to delete AllInOneDocs Toolbar, you have to decide which one of the two removal options you are going to go with. If you decide to eliminate this potentially unwanted program from your operating system manually, you might want to use the guide above. This task is easy, and you do not need a lot of experience for it. Of course, you should not waste time eliminating this PUP manually if you are going to install anti-malware software anyway. We advise installing it if more than one unreliable program is active on your operating system, and if you need more reliable protection against malware in the future. If you have any additional questions for us, do not hesitate to leave them below.