Do you know what AllDaySale is?
AllDaySale is an annoying nuisance that will turn your web browsing into a nightmare by spamming you with countless commercial pop-ups. It is an adware program that has been going rampant recently. Albeit not your average computer infection that can turn your system upside down, this program can still cause significant damage if it gets exploited by cyber criminals. You have to prevent that by removing AllDaySale today. While you are at it, make sure you get rid of all the other unwanted and potentially dangerous applications that are running on your system. Don't forget that adware apps seldom travel alone.
This program does not have an official homepage, so it is impossible to download it directly, but adware programs from this group have a certified distribution system that have not disappointed them yet. It is the bundled downloads. To put it simply, AllDaySale is included in a freeware package that is available for download at a number of websites. Most often, such software packages are distributed on torrent and file-sharing websites that do not check the legitimacy of the software they host. Not to mention that users seldom realize the potential risk behind downloading and installing freeware from third-party sites. It is very likely that you did not know AllDaySale came with some program you downloaded, and that is why it seems that the application infected your PC stealthily.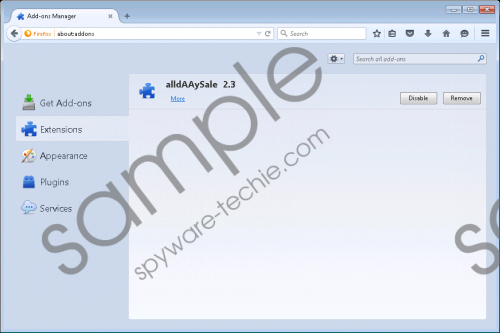 AllDaySale screenshot
Scroll down for full removal instructions
We know what to expect of this application because we have seen countless programs from the Multiplug family before. As far as its associations are concerned, our research lab team says the program is practically the same as RainbowPrices, HappySale, Dealsy, and many other apps from the same family. The most important thing about these programs is that they can be easily removed from the affected computer, but users are often too confused to understand that the problem is not as grave as they think.
True, AllDaySale spams users with annoying pop-ups and does not try to hide its presence. However, if you are not aware of the fact that the pop-ups are generated by an adware program, you may not understand what is going on at first. However, it is not just about the pop-ups. The extension that AllDaySale adds to your browser also tracks your online activity and the tailors the ads according to your likes and preferences. This increases the possibility of you clicking those ads, which, of course, you should not do.
Although most of the ads may lead you to third-party shopping websites, some of them could redirect you pages that are part of malware distribution. We are not trying to say that AllDaySale tries to infect you with malicious programs on purpose, but the program is not responsible for the third-party content security, so you will do yourself a favor if you get rid of the application right now, thus protecting your PC from any further damage.
Delete AllDaySale manually via Control Panel, and then get rid of the extension via your browser's settings. You should also terminate other unwanted programs that might have arrived at your system with this adware app, so detect them all with a computer security tool of your choice and pulverize them on the spot.
How to Delete AllDaySale
Windows 8 & Windows 8.1
Drag your mouse cursor to the bottom right of your desktop.
When the Charm bar opens, click Settings and go to Control Panel.
Open Uninstall a program and remove AllDaySale.
Windows Vista & Windows 7
Open the Start menu and click Control Panel.
Go to Uninstall a program and remove AllDaySale.
Windows XP
Click the Start button and navigate to Control Panel.
Select Add or remove programs and uninstall AllDaySale.
Get rid of the AllDaySale Extension
Mozilla Firefox
Press Ctrl+Shift+A and the Add-ons manager tab will open.
Disable and remove AllDaySale from Extensions.
Restart your browser.
Google Chrome
Press Alt+F and click More tools.
Open Extensions and remove AllDaySale from the list.
In non-techie terms:
AllDaySale is a useless program that will not allow you to browse the Internet properly. It will expose you to unreliable third-party content, making you vulnerable to potential malware attack. You need to remove AllDaySale from your system because you have to keep your computer clean and safe. Should you have any further security-related questions, do not hesitate to contact us by leaving a comment below.