Do you know what AllCursors is?
It is claimed that AllCursors is a functional application that can add a little bit of fun to your everyday browsing. Alas, it is considered adware, so you should remove it, because the only thing that this program will add is ads. AllCursors has no customized mouse cursors to speak of, because they simply do not exist. This nonsense about fun mouse pointers is just a trick to make people want to download this application. Certainly, this application is marketed towards young, novice users, so the ads are likely to be game-oriented. So we recommend you read this article and spread the word that this application is not what it is supposed to be.
It seems that AllCursors has been developed by a small-time developer. This program's website Allcursors.com provides only the email and physical address of the developer. There is no company name. Allegedly, the developer is based in Mount Laurel, New Jersey, USA. However, there is no way to prove that this developer is actually situated there. As far as we know, this program is only distributed via its main website, but there is a good chance that we will see it bundled with malicious software in the near future.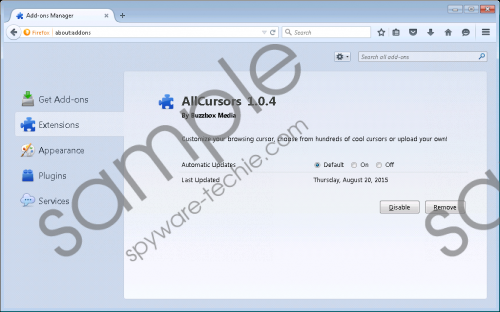 AllCursors screenshot
Scroll down for full removal instructions
The developers outright lie about this program, saying that the application can change the mouse pointer to a custom one. This concept is nothing new and years ago there were a lot of programs that added customized cursors to Microsoft Windows. This application, however, is restricted only to a browser. It should work with Internet Explorer, Google Chrome, and Mozilla Firefox, but our researchers say that it only works with Firefox. Whatever the case may be, we will include a removal guide for all three browsers.
This application's Terms of Service states that "AllCursors is supported by advertising, which may include display, in-text and/or interstitial ads." So it should not display a lot of ads and it did not when it was tested. The document also states that "You will see approximately 1 display ad per page on content sites; however, at times as many as 5 display advertisements per page." Now, 5 advertisements is a lot and can be very irritating to the most patient of users. Besides, we do not know where the ads come from, so you should not trust them. Adware is unreliable in nature and is apt to feature links to malicious websites and malware downloads.
One last thing to mention before we wrap up this article: AllCursors is programmed to gather information about you and your browsing habits. Its Privacy Policy states that "certain non-personally identifiable information is collected, stored, and used for business and marketing purposes. This non-personally identifiable information includes, without limitation: IP address, unique identifier number, operating system, browser and other software information, webpage URLs visited, and search queries entered." Furthermore, if you attempt to contact the mysterious developer via its email and disclose personal information about yourself, then it will also be added to the information gathered automatically. Moreover, the developer may give or sell this information to third parties. There is just no way of knowing how this information will be treated.
For this and other stated reasons, we think that AllCursors has no reason to remain on your computer and that you should get rid of it as soon as possible. To sum up what has been said, we want to point out that this program will not offer you custom mouse pointers, but will display commercial ads and gather information about you and earn healthy profits for its creators in the process. So we encourage you to remove AllCursors.
Remove AllCursors from your browser
Microsoft Internet Explorer
Simultaneously tap Alt+T.
Select Manage Add-ons.
Select Toolbars and Extensions.
Find AllCursors.
Click Remove.
Google Chrome
Simultaneously tap Alt+F.
Select More tools.
Choose Extensions.
Find AllCursors and click Remove.
Mozilla Firefox
Simultaneously tap Ctrl+Shift+A.
Click Extensions.
Find AllCursors.
Click Remove.
In non-techie terms:
AllCursors is adware disguised as a useful application. It does not have the ability to change your mouse pointer's appearance, but it can display up to 5 advertisements per page, which is way too much no matter how you look at it. This program also collects all kinds of information about you in order to make a bigger profit. All in all, AllCursors can do nothing for you, so you ought to remove it.