Do you know what Allcry Ransomware is?
Ransomware programs are extremely prominent nowadays, and it seems that their popularity among malware developers will not decline anytime soon. Malware experts at Spyware-Techie.com have come across a newly crafted program of this classification that goes by the name of Allcry Ransomware. It goes without saying that every user must avoid this application at all costs since it exhibits extremely malicious functionality. Just like many of its counterparts that are active nowadays, it might be able to lock vast quantities of data on the affected computer without any authorization. It should be obvious that having such a program active on your PC could have devastating outcomes. Thus, in our report, we provide virtual security tips that will help you maintain a fully secure operating system. Also, we present further information regarding the functionality of Allcry Ransomware along with its detailed removal guide.
During the in-depth analysis of Allcry Ransomware, our researchers have discovered that this malware is mainly targeted at users located China and South Korea. Even though that is the case at the moment, it is important to understand that this ransomware could hit users from all around the world. Therefore, being aware of its existence is critical. The malware in question starts acting as soon as it gains full access to your operating system. Firstly, it scans the entire hard drive for its contents and then starts the encryption procedure. The whole process is designed to be completely silent so users would not be able to stop it before it has done any harm. It is also important to note that all files are encrypted with a powerful algorithm; thus, manual decryption is not an option. Once your data is no longer accessible, you will see a ransom note on your Desktop. It informs you that some of your files have been encrypted and urges you to pay a ransom of 0.2 Bitcoin in return for decryption services. Even if this seems like a viable way to regain access to your files, it is important to note that there are no guarantees that developers of this malware will actually unlock your data even if you happen to pay up. That is so because cyber crooks responsible for this ransomware are in no way legally bound to decrypt your files even if they receive the payment. It goes without saying that you must remove Allcry Ransomware if it is ever found up and running on your personal computer. To do so quickly and easily, make sure to use the detailed instructions that we present below.
If you want to keep your personal computer safe and secure at all times, you must take a few precautionary steps to improve your overall virtual security. Since Allcry Ransomware is often distributed via spam email campaigns, we highly recommend refraining from all suspicious email attachments that come your way from unknown sources. To further improve your system's security, our researchers urge users to practice safe browsing habits. Be sure to avoid all unauthorized download websites since they could host bundled installers, which are infamous for being filled with all sorts of questionable and even potentially malicious programs. Additionally, you should always learn about the program that you wish to download before doing so because cyber crooks tend to use hoax advertising tactics to trick unsuspecting Internet users into downloading and installing their invasive application without knowing what it does. Finally, and most importantly, every user must have a reliable antimalware tool since it can detect and delete any virtual threat automatically. These seemingly simple precautionary steps will help you keep your operating system clean and secure at all times.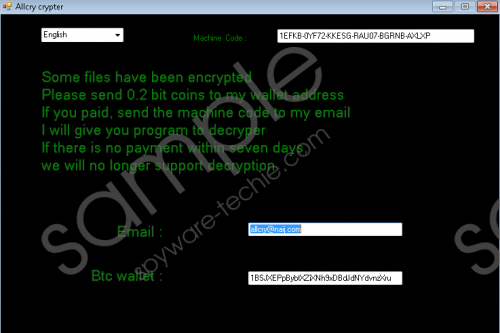 Allcry Ransomware screenshot
Scroll down for full removal instructions
It goes without saying that the complete removal of Allcry Ransomware should not be delayed under any circumstances. Make sure to follow the instructions that we present below with your utmost attention. Do not rush the process because a single mistake could result in an incomplete removal. That is a dangerous instance since traces of Allcry Ransomware could act deviously. There is a chance that due to leftovers this ransomware might continue to work maliciously. If you want to be sure that every single bit of Allcry Ransomware has been removed from your personal computer, make sure to perform an in-depth analysis of your entire operating system for anything associated with this malicious piece of software.
How to remove Allcry Ransomware from your personal computer
Click the Windows button.
Type regedit into the search field and tap Enter on your keyboard.
Go to HKEY_CURRENT_USER\SOFTWARE\Classes.
Right-click a malicious registry key called Allcry Software and select Delete.
Open your File Explorer.
Go to C:\Users\[your username]\Downloads.
Right-click the malicious .exe file and then select Delete. Remember that the name of this file could be random.
Go to C:\Users\[your username\AppData\Local\Temp.
Right-click the malicious .exe file and then select Delete. Remember that the name of this file could be random.
Close your File Explorer.
Right-click your Recycle Bin and then select Empty Recycle Bin.
In non-techie terms:
If you find manual removal too complicated, do not worry. You can find alternative instructions crafted by our malware experts below. Follow them, and you will be able to delete Allcry Ransomware in a fully automated manner.