Do you know what Alert.net-update.com is?
Have you discovered ads by Alert.net-update.com? Then you need to ignore them because it has been discovered that this advertising domain may promote fictitious installers. Even if you are presented with seemingly authentic programs, it is most likely that instead of downloading them you would initiate the installation of various other applications. Unfortunately, it may be difficult to delete Alert.net-update.com related programs from the computer. Needless to say, it is not enough to ignore the reappearing ads to stay safe. If the suspicious offers keep popping up when browsing the web, chances are that adware has been installed onto the computer already. Continue reading to learn how you can locate and remove undesirable and invasive computer applications.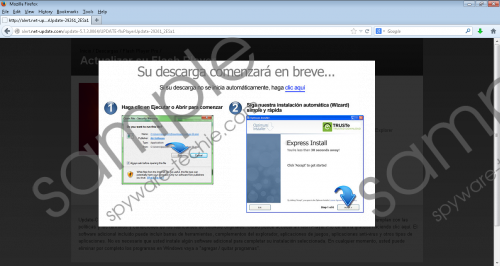 Alert.net-update.com screenshot
Scroll down for full removal instructions
Freeven, HQ-Vid, MediaPlayerPlus, and various other suspicious applications are considered to be adware, or advertisement supported software. These applications may be responsible for enabling Alert.net-update.com ads on the web pages you visit. If you have discovered these on the PC – delete them right away. Unfortunately, the suspicious advertisements can also be presented by applications which may be installed via the fictitious installers presented by Alert.net-update.com. As our malware researchers have discovered, PC Fix Speed, PC Tech Hotline, SupraSavings, OutfoxTV, Highlightly, and various similar programs could be installed instead of the promoted Flash updates, media player installers, etc. Note that Alert.net-update.com can present all kinds of different ads, including those promoting fictitious helpline numbers, suspicious prize giveaways or suspicious malware removal tools.
You need to make sure that Alert.net-update.com ads stop popping up. We recommend using automatic malware removal software to ensure that all suspicious applications are deleted and that your PC is safeguarded against other threats attacking in the future. Authentic security tools will be able to remove Alert.net-update.com related applications as well. Of course, if you want to delete malware, adware and potentially undesirable programs manually, you can proceed on your own. Start with the guides below.
Delete undesirable programs
Delete from Windows XP:
Open the Start menu from the Task Bar at the bottom of the screen.
Now open the Control Panel and double-click Add or Remove Programs.
In the appeared list select the undesirable program and then click Remove.
Delete from Windows Vista & Windows 7:
Click the Start button on the left of the Task Bar and select Control Panel.
Go to Uninstall a program and right-click the one you want to remove from the PC.
Click Uninstall to remove the undesirable program from the computer.
Delete from Windows 8:
Right-click on the Metro UI menu screen and select All apps to open the Apps menu.
Open the Control Panel and click Uninstall a program to find the installed applications.
Find the program you with to remove from the system, right-click it and select Uninstall.
In non-techie terms:
Alert.net-update.com is a suspicious advertising domain which has been noted to present unreliable and misleading offers. The ads could push you to install camouflaged malware, call unreliable helplines, share private information and visit suspicious websites. These are the risks you should avoid, and so getting Alert.net-update.com adware removed is highly recommended. Click the download button below to acquire a legitimate malware removal tool to delete existing malware or continue manually. Make sure that all potential threats are deleted.