Do you know what Air Media Player is?
Air Media Player may show up on your computer even though you did not install it knowingly. This video player has been tested in our internal lab by our researchers who concluded that this is a potentially unwanted program, or PUP. While this category does not mean direct and serious danger to your files, your privacy, or your system, there are still traits exhibited that could be interpreted as potential threats. This PUP does not even seem to play any well-known video formats for starters. It may also enter your system with other PUPs and possibly malware infections, too. It is never safe to keep an application on your system that you did not install knowingly and it does not work properly either. If a program sneaks onto your computer in questionable ways, it should already be suspicious to you. We recommend that you remove Air Media Player from your PC before it might redirect you to malicious websites or surprise you in other ways.
There are basically two websites that promote this software officially: airmediaplayer.com and xetoware.com/air-media-player.html. These are both very simple websites trying to promote this useless software as "smart and fast" and that it has "video support for every video and audio format" but these claims fall flat the moment you put this PUP to the test. In any case, you cannot download this software directly from any of these official pages. Instead, you are redirected to a download.cnet.com page, which is a bit suspicious and could be the reason why you download a bundle instead of a standalone installer. Since this bundle may contain other PUPs and even malware infections, we suggest that after you delete Air Media Player from your system, you use a reliable online malware scanner -- could be a free one if you can trust it -- and detect all other possibly harmful programs as well.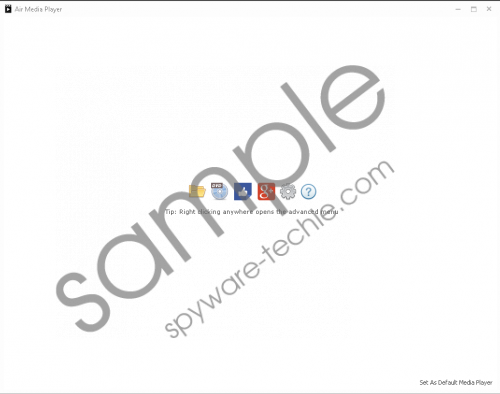 Air Media Player screenshot
Scroll down for full removal instructions
Unfortunately, it is quite unlikely that you have ever visited these official sites and you still find this PUP on board. It is possible if you clicked on the wrong third-party content while surfing the web. Our research shows that this software can be downloaded when you click on pop-up notifications that claim that you need a new media player to be able to play content on a page you are visiting. Unsuspecting users may think that it is all true and they may click on this pop-up to install the "needed" software. However, instead of a reliable and reputable media player they would install Air Media Player along with other questionable free programs or worse. If you encounter such pop-up notifications, either there is an adware infection on your system or you land on a shady website, including file-sharing (torrent and freeware) and online gaming pages. All in all, if you find this PUP on board, you need to be careful because there could be other potential threats hiding on your PC. This is why you should make sure that you know what other programs might be endangering your computer by using a scanner after you remove Air Media Player.
Although this worthless media player claims that it can play back any known video and audio file formats, our tests show otherwise. In fact, we could not play any well-known file formats using this player. This is already very suspicious and should be enough for you to want to delete this PUP. But there is more to it. Our researchers also realized that this application changes your proxy settings, which is quite a worrisome trait indeed as it can be used to redirect you to promoted websites that may not all be reliable to say the least. If this change takes place without your knowledge, it is an obvious privacy breach. So now you may have a program on your system that you may not remember installing, it does not work as it claims, it may bring other potential threats onto your PC, it makes changes to your system, and you still have not acted against it. We believe these reasons should be more than enough for you to remove Air Media Player as soon as possible.
Another bit of bad news at the end is that the uninstaller of this PUP does not work properly. Even if you run it via Control Panel, it would leave some files, folders, and registry entries, i.e., a mess behind. If you want to be thorough, you need to start by resetting your proxy settings and then, you can manually delete all related folders and registry entries. We have prepared the necessary guide for you. If you follow these steps, you should be able to eliminate this annoying PUP. But, if this program entered your system without your noticing it, we suggest that you raise your level of defense since more serious and dangerous malware threats may also slither onto your system. If you do not think you can do this manually, we advise you to find a reliable malware removal application and use it to safeguard your PC from all possible security threats automatically.
How to reset your proxy settings
Tap Win+Q and enter control panel. Press the Enter key.

Click Network and Internet and select Internet Options.
Press LAN settings on the Connections tab.
Deselect "Use a proxy server for your LAN" and select the "Automatically detect settings" checkbox.
Press OK.
Press OK.
Air Media Player removal from Windows
Tap Win+E to launch your File Explorer.
Find these folders and bin them all:
%PROGRAMFILES%\Air Media Player
%PROGRAMFILES(x86)%\Air Media Player
%ALLUSERSPROFILE%\Microsoft\Windows\Start Menu\Programs\Air Media Player
%ALLUSERSPROFILE%\Application Data\Microsoft\Windows\Start Menu\Programs\Air Media Player
Tap Win+Q and type in regedit. Hit the Enter key.

Delete these registry keys:
HKLM\Software\Wow6432Node\Xetoware (64-bit!)
HKLM\Software\Xetoware
HKLM\SOFTWARE\Wow6432Node\Microsoft\Windows\CurrentVersion\Uninstall (64-bit!)
HKLM\SOFTWARE\Microsoft\Windows\CurrentVersion\Uninstall
Close the Registry Editor.
Empty your Recycle Bin and reboot your computer.
In non-techie terms:
Air Media Player is a questionable application that might put your system security at risk by coming on board with other potentially risky freeware programs as well as possibly harmful applications bundled together. In fact, our researchers have labeled this tool as a potentially unwanted application. This software can show up on your system in questionable ways, i.e., via unsafe pop-ups posing as software updates or downloaders. We have found that this player does not even work, it does not play any media files we tried. However, it does change your proxy settings, which can be a very bad sign, not to mention the other questionable programs that may have come with it. All in all, we recommend that you remove Air Media Player from your system and scan your computer to detect all other threats as well. If you want to be efficient, you could use a professional anti-malware program to deal with all your security-related issues automatically for you.