Do you know what AhoyTraveler is?
If you come across a program named AhoyTraveler, we highly advise you to avoid it at all times since after a detailed investigation it has been classified as one more invasive adware application. It is known that this ad-supported program has been roaming the web recently; thus, you should be well aware of it. Unfortunately, some Internet users obtain this adware program without realizing how it works. This is so because the creators of this program employ various manipulative marketing techniques. On its official website this piece of intrusive software is advertised as a software that should be run on your PC if you wish to receive best deals regarding traveling. If that was not enough, you should know that in some cases this dubious program could be the primary reason your PC might get filled with other suspicious applications. Do not hesitate to execute the complete removal of AhoyTraveler as it holds no valuable features whatsoever. We firmly advise you to follow the removal instructions that we presented below to delete this adware application without encountering any major problems.
During our analysis, it has been found out that AhoyTraveler provides no useful web content whatsoever. As soon as it enters your operating system it provides annoying ads, pop-ups, and coupons whether you like it or not. It goes without saying that such activity will ruin your overall online experience. It is critical to highlight the fact that at times your web browser might get flooded with so much of invasive web content that surfing the web could turn out to be a virtually impossible task since you might have to stop all your online activities just to close down each ad and pop-up presented by this adware. All such content is presented to you because the ad-supported application starts a background system service that establishes connections to various adware servers. Such servers are infamously known to be the primary source of intrusive web content. You should be aware that by ending the invasive system, service might not stop the annoying activity entirely. If you are keen on regaining the default functionality of your web browser, you must perform a full removal of AhoyTraveler as soon as possible. Make sure to get rid of this adware once and for all by following the detailed instructions that we present below.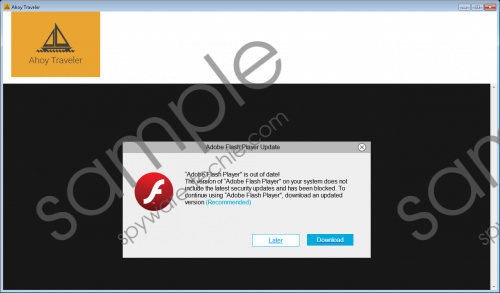 AhoyTraveler screenshot
Scroll down for full removal instructions
It is critical to highlight the fact that AhoyTraveler is mostly distributed via bundled installers. This particular way of distribution is favored by many malware developers as it allows them to exploit the fact that users do not pay their utmost attention while installing various programs on their PC. We highly advise you to double-check your whole operating system for other dubious software if you have AhoyTraveler running on your system. During out investigation, we have discovered that often this ad-supported program might come along with a toolbar from the Mindspark family, which is notorious for dubious applications such as EasyPhotoEdit Toolbar, MyFormsFinder, Toolbar, Wallpapers Toolbar, and quite a few others. It is important to take a few steps to improve your overall virtual security. By downloading your software from official creators' websites, you will significantly lower the risk of infecting your PC via software bundles. Also, you should learn about the application that you want to run on your PC as much as you can before even downloading it because developers of dubious software often use manipulative strategies to trick Internet users into obtaining a program without realizing what it does. Lastly, but most importantly, make sure to implement a professional antimalware tool on your computer if you do not have one already. Such a tool is an essential part of your virtual security because it can detect any questionable installers or websites and warn you about them in advance.
Fortunately, the removal procedure of AhoyTraveler is not that complicated since you can terminate it via Control Panel. What is unfortunate is the fact that at times users might skip the steps of the removal procedure, which often results in an incomplete removal of this ad-supported program. It is critical to delete every single bit of this adware to fully stop its suspicious and invasive functionality. This is why we recommend conducting a thorough analysis of your computer once you are done with the manual removal.
How to delete AhoyTraveler from your computer
Instructions for Windows 10 users
Type Control Panel into the search box.
Tap the Enter key on your keyboard.
Select the Uninstall a program option.
Locate and select the AhoyTraveler.
Click the Uninstall button.
Instructions for Windows 8 and 8.1 users
Right-click your Task Bar.
Select Control Panel.
Click Uninstall a program.
Right-click the unwanted program and select Uninstall.
Instructions for Windows 7 users
Click the Windows button.
Select Control Panel and click Uninstall a program.
Select AhoyTraveler and click Uninstall.
Instructions for Windows XP users
Tap the Windows key on your keyboard.
Select Control Panel and click Add or remove programs.
Double-click AhoyTraveler.
Confirm that you want to delete it.
In non-techie terms:
Some users might not be entirely comfortable performing the manual removal by themselves. If you happen to be one of such users it is important to note that our team of malware experts at Spyware-Techie.com have created an alternative removal guide that will help you delete AhoyTraveler in an automatic way. It is crucial to delete this adware program entirely since it is the only way that you will be able to surf the web the way you are used to once again.