Do you know what Advance System Care is?
It is possible that you do not remember when and how your installed Advance System Care. This application is very tricky because it has the name of a legitimate program with one letter difference (Advanced System Care). It is possible that its creators chose this name on purpose to lure more unsuspecting users to the promotional website or to fool users who find this tool on board into believing that it is a reliable program. In any case, our researchers have found that this is just another potentially unwanted program, or PUP, that is also known as a PC optimizer. In fact, this PUP is very similar to other well-known questionable programs, such as System Healer and SystemBoosterPro. The presence of this PUP may indicate that your system could be under threat by a couple of malicious programs as well, which may have come along with this PUP. We think that the best for you to do is remove Advance System Care and identify all other possible threats.
This PUP is promoted on its website at advancepctools.info. You can directly download the installer (ascsite.exe) when you click on the Download button. We must tell you though, that security software may detect this official installer as a potential threat, which is clearly not a promising sign. For a security-minded user, this information would be enough to want to delete Advance System Care. Nevertheless, this is just the beginning. Unfortunately, this is not the only way in which this PUP is distributed on the web. We have found that you also infect your system with this useless application while installing a freeware bundle you downloaded from questionable sources. The main issue with such a bundle is that it may contain a number of malware infections and PUPs alongside a probably legitimate free program.
A malicious package may bundle a free program, a few PUPs as well as browser hijackers, Trojans, fake alerts, and ad-supported programs. Out of this lot, clearly, Advance System Care is one of the least worrisome. Most of the victims infect their system with such a bundle after they click on questionable third-party content (ads and links). This usually takes place while surfing the web and you end up on a suspicious file-sharing site. Such a site can infect you basically in two ways.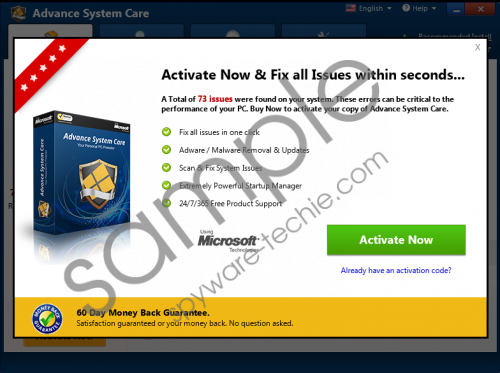 Advance System Care screenshot
Scroll down for full removal instructions
First, you may click the download button in order to download a file or program for free. However, this file will not be a standalone file but rather a whole package of "surprises." Second, such pages are generally filled with unsafe third-party ads, which are sometimes even hidden or disguised as content belonging to the page, and if you click on one, you may drop a bundle onto your machine. Of course, it is also possible that your PC is infected with adware and this infection presents to you the unsafe ad that you click on. All in all, we suggest that you delete Advance System Care and run a free online malware scanner to detect all other possibly harmful programs as well.
This is a typical PC optimizer that promises you a cleaner and faster system, but it actually does the very opposite. Our researchers have experienced that this PUP can make your PC run slower when it is active. When you install this program, it creates a startup entry so that it can autorun with Windows. This is only a problem because this PUP tends to litter your screen with its annoying reports and its promotional material to try to convince you to purchase the full product for 23.95 EUR. But the full product itself does not seem to be worth this money because it does not really do too much. If you have the free version, you can forget about fixing any supposed issues the scanner returns with. You need to click on the "Activate now" button in order to buy the full version to be able to fix anything. But our tests and our experience show that what it mainly does is removing unused and unnecessary files from your %Temp% directory and the registry database. We are sure that you can find reliable and useful optimizer software on the web with a little effort. When you finally decide to remove Advance System Care, it recommends you the installation of Ad-Aware Web Companion that forces Yahoo as homepage, new tab page, and default search engine, which cannot be canceled. You can either choose to click on the "Get it FREE" or the "No, I want to uninstall" button on this window. We definitely suggest that you uninstall Advance System Care as soon as you can.
So, here is what you can do if you have made up your mind about the fate of this useless PUP. In fact, you can simply locate the uninstaller in your list of installed programs in Control Panel and activate it. If you have never uninstalled an application before, you can use our instructions below as a reference. Do not forget that there may be other programs on your system threatening the normal operation. Therefore, we recommend that you address this issue right now if you do not want further infections to turn your system upside down and ruin your online experience. We advise you to use a reliable anti-malware program like SpyHunter to protect your PC from all existing malware infections and PUPs.
Advance System Care Removal from Windows
Windows 8, Windows 8.1, and Windows 10
Press Win+R and type Control Panel. Click OK.
Choose Uninstall a program.
Select the unwanted application and click Uninstall.
Windows Vista and Windows 7
Open the Start menu and go to Control Panel.
Open Uninstall a program.
Select the unwanted application and click Uninstall.
Windows XP
Press Start and select Control Panel.
Choose Add or Remove Programs.
Select the unwanted application and click Remove.
In non-techie terms:
Advance System Care is a new PC optimizer program that may not be as good and as reliable as it wants you to believe. This software has been categorized by our researchers as a potentially unwanted program because it does not mean direct threat to your computer. This program may try to show you fake scan results to convince you to buy the full version. Since this application can only do minor "repairs" on your system, including deleting your temporary files and broken Windows registry entries, and only when you actually buy the product, we believe that you could spend your money more wisely. This program may also come on board along with other potential threats; therefore, we suggest that you remove Advance System Care, and do the same with all other questionable programs as well. If you cannot do this manually, we advise you to install a powerful anti-malware program.