Do you know what Ads By Gameslava is?
If you ever happen to come across an application that goes by the name of Ads By Gameslava, make sure to avoid it at all times as it is nothing more than yet another intrusive adware application. Unfortunately, quite a few computer users already have their operating system infected with it due to misleading marketing techniques employed by the creators of it. On its official website, this ad-supported program is advertised as a tool that you should use to gain free and quick access to all of your favorite Flash-based games right within your web browser. While such functionality might seem quite useful, you must be aware of the fact that Ads By Gameslava will only cause tons of interferences every time that you decide to surf the web. To avoid such devious functionality, we provide a detailed removal guide that we present below. Follow these instructions and you will be able to get surf the web the way you are used to once again.
The overall functionality of Ads By Gameslava is not too complicated. In fact, during the research, it has been discovered that the ad-supported program in question is closely related to another suspicious program which is known as YayZap. Thus, it is not surprising that their inner workings are quite similar. Once this adware application is fully active on your operating system, you will likely notice an unusually large number of third-party ads, pop-ups, coupons while surfing the web. In most cases, the unwanted web content presented to you will cause major disruptions, which will make the overall online experience an annoying and frustrating one. In some cases, you might be presented with so many ads, pop-ups, and coupons that surfing the web could prove to be an almost impossible task. At times you might be forced close down each pop-up or an ad individually so that you could continue surfing the web. In some rare instances, the amount of unwanted content could cause your web browser to crash. It should be quite obvious that Ads By Gameslava does not present any valuable features. Due to such poor and invasive functionality malware experts at Spyware-Techie.com highly urges you to delete it from your operating system at the very same time that it is found running on it.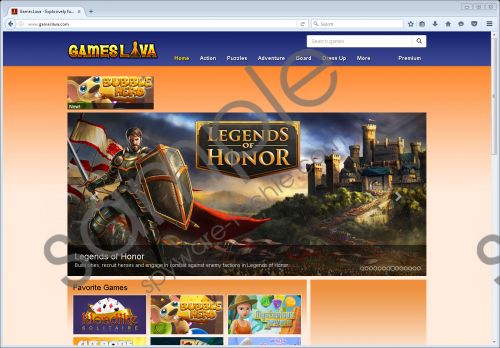 Ads By Gameslava screenshot
Scroll down for full removal instructions
Unfortunately, such annoyance and frustration inducing functionality of Ads By Gameslava is not the worst fact about it. Upon further investigation, it has been found out that in some instances the ads, pop-ups, and coupons could turn out to be embedded with redirect links. This means that by clicking on a seemingly harmless ad, you risk of being redirected to suspicious third-party websites. All of this could prove to have devastating outcomes. This is so because you could end up on websites that might prove to be potentially dangerous. In some situation, you could be taken to a site that could be running an arbitrary code execution exploit, meaning that just entering such a web page could be much more than enough to get your operating system infected with some unknown malware. In other cases, you could end up on fake online shops, which are crafted for one purpose - to steal your credit card data. It goes without saying that just landing on any of these websites could prove to have detrimental outcomes, to say the least. It should be obvious why the complete removal of Ads By Gameslava is a must. Make sure to follow the instructions that we provide below to get rid this adware in its entirety.
Make sure to pay your utmost attention to every single step of the removal guide. This is critical since only a complete removal of Ads By Gameslava will help you regain the default functionality of your web browser. Once you are done with a complete removal of this ad-supported program, make sure to execute an in-depth analysis of your personal computer for potential leftovers linked to it. This is just as critical as the removal because leftovers associated with Ads By Gameslava are known to have unwanted outcomes. For example, just a few registry entries or files could be used for a silent restoration procedure. By carrying out an in-depth analysis of your PC, you will be able to avoid finding yourself in such a situation.
How to remove Ads By Gameslava from your computer
Click the Windows button.
Type regedit into the search box and tap Enter.
Navigate to HKEY_CURRENT_USER\Software\Microsoft\Windows\CurrentVersion\Uninstall.
Select a registry entry entitled Gameslava and then remove it.
Open your File Explorer.
Go to C:\Users\User\AppData\Local.
Select and then delete a folder called Gameslava.
In non-techie terms:
Some users might find manual removal and an analysis of their personal computer a bit too complicated. If you happen to be one of those users, do not worry. Malware researchers at Spyware-Techie.com have created an alternative removal guide that we present below. Follow the instructions that we present below and you will be able to terminate this adware in an automatic manner.