Do you know what Ads by Freeven Pro 1.4 are?
If you find web banners and pop-up advertisements that read "Ads by Freeven Pro 1.4", it means that your Internet Explorer, Google Chrome or Mozilla Firefox contains Freeven Pro 1.4. On the Extensions list of Google Chrome, you will find that the icon of the application reads "Feven". Feven is another adware program promoted at feven.com. There also exist some other identical applications, including Feven Pro, Freven, Friven, and Fee Ven. It has been found that there are three versions of Freeven Pro.
If you want to avoid redirection to third party websites, some of which may have a questionable, you should avoid clicking on "Ads by Freeven Pro 1.4" and remove the adware program from the PC.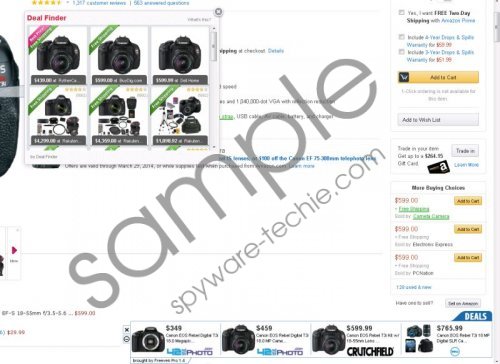 Ads By Freeven Pro 1.4 screenshot
Scroll down for full removal instructions
The analysis of Freven Pro 1.4 has revealed that in addition to "Ads by Freeven Pro 1.4", the adware program display advertisements that are labeled "Deal Finder" and "brought by Freeven Pro 1.4". Moreover, on some websites you may find Jollywallet banners. Among "Ads by Freeven pro 1.4" and Jollywallet banners, you may also find advertisements that are presented as "Ads not by this site".
Bear in mind that Freeven Pro 1.4 is not liable for the content of the advertisements that are displayed and takes no responsibility for the quality of the products promoted and pricing errors. Every website is supposed to have its privacy policy, which you should review before making purchases or downloading computer applications. The fact that some websites are promoted on Amazon, Walmart, or any other popular shopping websites does not mean that you can trust those unknown websites.
In order to determine your browsing patterns, Freeven Pro 1.4 may monitor you. More specifically, the application may install some browser cookies so that they record your search terms, information about what "Ads by Preven Pro1.4" pop-ups and other advertisements you click on, your browsing history, type of the browser and other non-personally identifiable information. Various non-personally identifiable details about you are likely to be collected in order to enhance the quality of the program; however, there is always some risk that some personally identifiable pieces of information will be obtain by Freeven Pro 1.4 and shared with third parties.
In order to get rid of "Ads by Freeven Pro 1.4" pop-ups and web banners, you should either follow the instructions provided below or implement a powerful spyware removal tool. We recommend that you choose the latter option because by implementing an anti-spyware tool, you provide the system with protection against various computer threats. We recommend that you use SpyHunter because it can easily help you get rid of "Ads by Freeven Pro 1.4" pop-ups and coupons.
How to remove Freeven Pro 1.4
Windows Vista and Windows 7
Click Start.
Select Control Panel.
Click Uninstall a program.
Remove the unwanted application.
Windows XP
Click Start.
Click Control Panel.
Click Add or Remove Programs.
Uninstall Freeven Pro 1.4
Windows 8
Move the mouse to the lower-left corner of the screen.
Right-click.
Select the Control Panel option and click
In non-techie terms:
Freeven Pro 1.4 belongs to a group of adware that includes Feven, Feven Pro, Freeven and some other applications. The advertisements displayed by Freeven Pro 1.4 are not endorsed the creators of the application; hence, you should interact with them very carefully. In order to remove the adware program, follow the above-given instructions or implement a powerful anti-spyware tool.
Aliases: Freeven 1.4.