Do you know what Ads By Coolpic is?
Ads By Coolpic is another adware program which might expose your computer to Internet-based threats and make you a victim of criminal activities. Remove Ads By Coolpic because that is the best protective measure to make sure your computer is secure. We guarantee you will not miss this program as it does nothing except fill your browser with bothersome ads that might lead you to dangerous sites of high-risk content.
Commercial offers, discounts, and promo codes that might open up on your browser via banners, pop-ups, in-line ads, and other distractions might be the first reason why you would want to remove Ads By Coolpic from your PC. Usually, adware programs are utilized only to channel advertisements; therefore, they are almost never responsible for the material they provide on your browser. This means that Ads By Coolpic might be used to redirect you to illegitimate third-party sites that might have malicious content for you in the form of additional software or updates to existing software, for example, Flash Player, Java, or other legitimate programs. Delete Ads By Coolpic, as we are positive you do not want to see any forms of online advertising that would pose such a risk.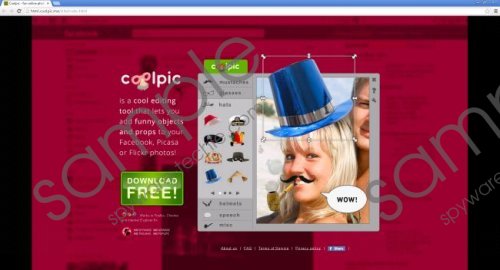 Ads By Coolpic screenshot
Scroll down for full removal instructions
If you did not knowingly install Ads By Coolpic but started seeing promoted links with such tags as "By BitCocktail Deal Finder" or any other variations, know that the adware application might have infiltrated your computer without your authorization. Such questionable behavior is reason enough to remove any adware applications, including Ads By Coolpic. You probably installed it with some other free software that it is known to be distributed with. This is why it is important to stay vigilant during the installation process of applications you might find on third-party sites as they might be used to install additional unwanted, and even malicious, programs.
Ads By Coolpic provides the most tempting offers for you because it knows more about you than you might be aware of. Adware programs are generally disliked, and thus removed, because they activate hidden processes that mine data about their Internet users. You might never know what the extent and purpose of the information being collected is; therefore, adware programs like Ads By Coolpic are best avoided.
Even if Ads By Coolpic was installed without your knowledge, it does not mean you cannot find it on your system via Control Panel. This is where you can remove Ads By Coolpic as well. Keep in mind that a lot of adware applications come as browser extensions; therefore, always check your default browser before and after the removal to make sure the application is disabled. Remember, the best choice to guarantee the safety of your computer system is to download security tools from trustworthy developers.
How to delete Ads By Coolpic from your computer
Windows 8 and 8.1
Open the Charm bar, and then choose Settings.
Select Control Panel.
Select Open Programs and Features.
Highlight the unwanted program.
Click Uninstall/Change.
Windows 7 and Vista
Open the Start menu, and then select Control Panel.
Click Programs, and select Uninstall a program.
Chose the program.
Click Uninstall/Change to remove.
Windows XP
Open the Start menu, and then choose Control Panel.
Open Add or Remove Programs.
Click on the program you want to remove.
Initiate the removal by clicking Remove.
How to remove Ads By Coolpic from your browser
Internet Explorer
Click the Tools button (the cog icon).
Select Manage add-ons, and then choose Toolbars and Extensions.
Select the unwanted extension and click Disable.
Restart your browser.
Mozilla Firefox
Open a menu at the upper right corner of the screen.
Choose Add-ons, and then select Extensions.
Click Remove next to the add-on.
Reopen your browser.
Google Chrome
Open the Chrome menu, and then choose Settings.
Click Extensions.
Click on the Trash bin symbol next to the extension you want to delete.
Click Remove.
Restart your Internet browser.
In non-techie terms:
Ads By Coolpic is another useless application by BitCoctail that does not nothing useful besides flooding your browser with a variety of ads. Like with most adware programs, it is best to remove Ads By Coolpic because it might redirect you to sites that might contain dangerous content. Use a trusty malware removal tool to terminate all the threats that might have entered your PC while Ads By Coolpic was present.