Do you know what Ads by Allgenius are?
Ads by Allgenius are offers, deals and recommendations presented by an infamous advertisement-supported program and produced by third parties. Even though the banner ads and pop-ups may seem authentic and interesting to certain computer users, you should be extra careful. In some cases, failure to delete Ads by Allgenius in time could lead to the exposure of virtual security and this could lead to a number of different problems. If you are not careful, it is quite possible that you will face misleading offers representing fictitious installers, bogus prize giveaways and other offers. Needless to say, this could cause different unreliable software removal or virtual identity protection problems.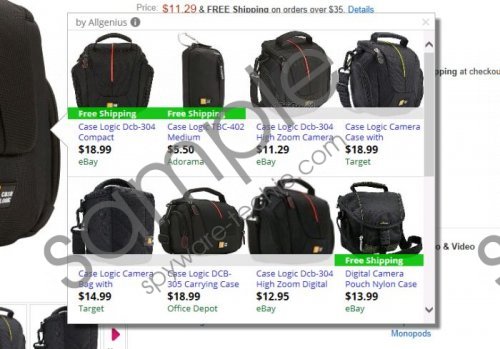 Ads by Allgenius screenshot
Scroll down for full removal instructions
Allgenius.info is the official website of the suspicious Allgenius browser extension. Luckily, the site does not present an installer, and so the number of computer users who could face the application decreases. On the other hand, SuperWeb LLC, which is the developer of the program, can attach its installer to other programs and offer them as bundles. Computer users often download software without paying too much attention to the programs which are set to install by default. If you do not pay attention as well, the displayed Ads by Allgenius may surprise you. You may be shocked to discover TopicTorch suggested searches and a search engine toolbar offering links to different sites. Have no doubt that all of this can be eliminated if you remove Allgenius.
It is risky to trust advertisements presented by third parties because they may turn out to be unreliable. Trusting applications which are capable of disrupting existing search tools is not recommended either. This kind of software requires immediate removal, and so we suggest you remove Ads by Allgenius right away as well. Automatic malware removal software is best when it comes to the removal of undesirable software, and this is the best choice if you want to delete Allgenius without any hassle. Manual removal is also possible and you can use the instructions provided below.
Delete Allgenius from Windows
Delete from Windows 8:
Access the Metro UI menu, right-click and select All apps.
Move to the Control Panel and then click Uninstall a program.
Right-click and Uninstall the program you want to remove.
Delete from Windows Vista & Windows 7:
Open the Start menu from the Task Bar by clicking the Windows logo.
Now open the Control Panel and move to Uninstall a program.
Right-click the program you wish to remove and choose Uninstall.
Delete from Windows XP:
Open the Start menu from the Task Bar and select Control Panel.
Double-click Add or Remove Programs and find Allgenius.
Select the undesirable program and click the option Remove.
In non-techie terms:
Ads by Allgenius are not reliable, so we recommend that you delete the advertisement-supported program which appears to be responsible for them. Use the guides above to delete Allgenius manually or use a reliable automatic malware remover. This is a much more beneficial option because besides getting rid of unreliable and intrusive software, a reliable tool should also help you protect the operating system in the future. Use the installation guide below if your operating system is difficult to control at the moment.