Do you know what AdPlugin.NM is?
AdPlugin.NM is an AVG detection which refers to a software downloader named Premium Installer. You can encounter Premium Installer when dealing with adware programs or freeware website. Premium Installer is very often used on corrupt websites, where computer users are encouraged to install fake updates or some questionable software programs.
AdPlugin.NM, or the software downloader, provides different programs depending on the IP of the computer. If you are located in the United States, so-called AdPlugin.NM can provide you with Conduit Search Protect, RocketTab, PCSpeedMaximizer, VuuPc and some other programs. In Europe, Premium Installer proves computer users with a set of different programs, including the Sweet-page.com browser hijacker, a software program called Weather It Up, PCFixSpeed, MyPCBackUp, and some others. The programs constituting Premium Installer changes from time to time; hence, it is impossible to pinpoint every single program that is associated with the detection AdPlugin.NM.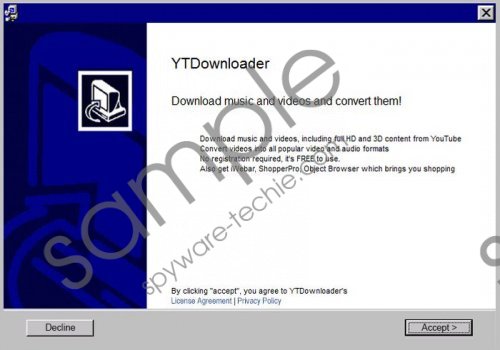 AdPlugin.NM screenshot
Scroll down for full removal instructions
If you are concerned about AdPlugin.NM, you should pay more attention to the programs installed on your computer. The detection AdPlugin.NM indicates that some unreliable software program may be present on your computer. Are your Internet browser settings changed? Have you noticed any difference in the way the computer operates? If so, it is worth scanning the system once again using a more reputable scanner. If your computer contains any malware or spyware program, SpyHunter, our recommended security tool, can easily identify it.
Not all security programs are capable of detecting every single unreliable program because the databases of different malware and spyware programs differ. If your computer security tool detects only AdPlugin.NM but does not identify any other suspect programs, do not hesitate to implement the recommended spyware and malware removal.
In case you do no notice any visual changes on your browsers or the desktop, you can check the Windows Control Panel. Below you will find our software removal guide which may help you uninstall undesirable programs. If you have any questions, feel free to comment below so that our team can help you as soon as possible.
How to remove unwanted programs
Windows Vista and Windows 7
Click Start.
Select Control Panel.
Click Uninstall a program.
Remove unrecognized programs.
Windows XP
Open the Start menu.
Click Control Panel.
Select Add or Remove Programs.
Uninstall unwanted program.
Windows 8
Move the mouse pointer to the lower-left corner of the screen.
Right-click when the pop-up window appears.
Select Control Panel.
Click Uninstall a program.
Remove the unwanted program.
In non-techie terms:
AdPlugin.NM is an AVG detection which should draw your attention to the security status of your computer. If you want to find out what unreliable software programs are present on your PC, implement our recommend spyware and malware prevention tool. Have already tried but did not mange to do it? Use the following guide to successfully install the scanner.