Do you know what the Ad info virus is?
The Ad info virus is and adware program, and, if you find pop-ups which contain the phrase Ad info, there is no need to panic. The so-called virus is installed as a browser add-on and is called UnfriendApp. The browser add-on is created by GenTechnologies Apps, which is known by many names, including Creative Island Media, Big Water Applications, and Western Web Applications. Ad info advertisements are associated with OpenApp Media, which is an advertising platform used by software developers to increase their revenues. When you click on Ad info at the bottom of an advertisement, you are taken to openappmedia.com, which provides information on why you are provided with various ads.
The so-called Ad info virus displays advertisements on commercial and non-commercial websites, including YouTube, Amazon, and other popular websites. The label Ad info is present on basically every web banner, iframe advertisement, and pop-up. The content of all those advertisement is likely to be unrelated to the content of the underlying website. For example, advertisements on YouTube may invite you to try various products, computer applications, and computer games. You may also encounter advertisements promoting online quizzes, articles on health issues, and many services and products. Each and every advertisement belongs to some third-party company and the developers of the adware program do not endorse those third parties. Your interaction with those advertisements and correspondence with third-parties is your own responsibility. Hence, we suggest that you review the ratings and the privacy policy of any unknown website to which you are tab by the adware before ordering products or services. There are many unreliable websites which use adware programs to drive more traffic, and the so-called Ad info virus may display some deceptive advertisements.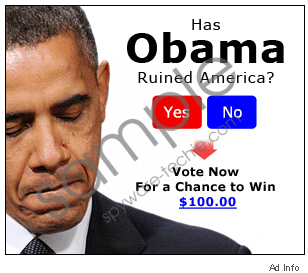 Ad info virus screenshot
Scroll down for full removal instructions
Do not hesitate to remove the adware program because it may be monitoring you. It may record search terms, clicks, impressions, browsing history, and different browser settings. Usually browser add-ons collect only non-personally identifiable information; however, is some cases personally identifiable information may be recorded. If you do not want to receive target advertisements based on the information acquired from your Internet browsers, take action to get rid of Ad info pop-ups and shield the computer from multiple computer threats.
We recommend that you remove the Ad info virus using a reputable spyware removal. The UnfriendApp browser add-on is known to be distributed along with Conduit Search, and, if you do not pay attention to the information provided during the installation process, the settings of your Internet browser may be changed. We recommend that you use SpyHunter, because it can remove the Ad info virus and fix your browsers. The recommended program can also fight off other adware programs, rogue anti-virus programs, browser hijackers, and many other malicious programs.
How to get rid of the Ad info virus
Windows Vista and Windows 7
Click Start.
Click Control Panel.
Select Uninstall a program.
Remove unwanted programs.
Windows XP
Click Start.
Select Control Panel.
Click Add or Remove Programs.
Uninstall the adware program displaying Ad info pop-ups.
Windows 8
Press Win+R and enter control panel.
Click OK.
Select Uninstall a program.
Remove the adware program.
In non-techie terms:
The Ad info virus is a term used to refer to an adware program which displays advertisements containing the phrase Ad info. The adware program is not a computer virus but it is advisable to remove it from the browser. Follow the above given instructions or install a reputable malware and spyware prevention tool to get rid of Ad info web banners and other pop-ups.