Do you know what Activeris.net is?
Our team of highly qualified malware experts comes across many suspicious and ambiguous websites each day. Activeris.net is definitely one of them. We classified it as a dubious website because of the way that it misleads users into downloading their product known as Activeris Antimalware. Activeris.net markets its product as a professional antimalware tool; unfortunately, it does not even come close to being one. Thus downloading it on your system is not advised. If it is already on your PC remove it right away and maintain your system clean and safe. We provide a detailed removal guide that was put up by our research team.
You are more likely to get Activeris Antimalware installed onto your system if you do not practice safe browsing. Often unreliable websites such as various torrent websites, free online movie websites, or any other p2p website might display ads promoting potentially unwanted applications. If you click on those ads, you are likely to land on websites like Activeris.net. Within Activeris.net website every few seconds you are displayed a red warning telling you that your system might be infected and urging you to download an antimalware tool in order to clean up your system. A lot of users are manipulated and end up with Activeris Antimalware on their systems. If they had had an authentic antimalware tool, their system would have never been infiltrated, in the first place. Furthermore, all the threats would have been removed instantly.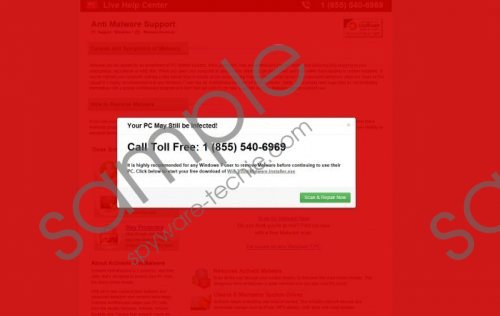 Activeris.net screenshot
Scroll down for full removal instructions
An application marketed on Activeris.net also often comes bundled with other potentially unwanted applications. Our team noticed that Activeris Antimalware could come with NewPlayer, Fortunitas, MyPcBackup, etc. Running a professional virtual security device could lower the risk of your system getting infected as these tools are capable of recognizing fictitious bundled installers.
If, unfortunately, Activeris Antimalware infiltrates your personal computer it automatically runs a scan for malware detection. The results of the scan by this antimalware tool cannot be trusted; our research team noticed that the database of Activeris Antimalware is remarkably outdated. Furthermore, the results are questionable because this application urges users to remove temporary files or old folders that you have used but have cleaned up. Somehow Activeris Antimalware dubs these files and folders as malicious. This dubious antimalware will also ask you to pay for their removal services that are utterly useless. The only removal that you need to conduct is the one of Activeris Antimalware.
Considering the evidence: suspicious infiltration, questionable services – our team strongly advises you to avoid Activeris.net website and their product. It is not beneficial in any way. It has connections with other potentially unwanted applications, which eventually could lead to an infection of the whole system. Manual removal guide is provided below. Carefully follow it, and you should not experience any problems. But keep in mind that traces of this application after manual removal might still be present. For complete removal, we suggest you to use a professional malware remover.
How to remove Activeris Antimalware from your system
Remove from Windows 8
Tap Windows key+Q simultaneously.
In the search box type Control Panel and hit Enter.
Select Uninstall a program.
Select and uninstall Activeris Antimalware.
Remove from Windows 7 and Windows Vista
Tap the Windows key.
Select Control Panel.
Click Uninstall a program.
Locate Activeris Antimalware and uninstall it.
Remove from Windows XP
Click the Start button and select Control Panel.
Click Add or Remove Programs.
Select and remove Activeris Antimalware.
In non-techie terms:
Although Activeris.net is not an aggressive, malicious website it still needs to be avoided in order to maintain a secure and clean system. Sometimes even applications that at first sight might seem useful could turn out to be used by cyber crooks as a gateway for further infections. We advise you to protect your system with an authentic antimalware tool if you are interested in our opinion, please follow the instructions below.