Do you know what A1PCCleaner is?
A1PCCleaner is a potentially unwanted program (PUP) that that you should remove from your PC, because it poses a serious threat. The program is advertised as a useful system optimization tool that is capable of fixing various errors and protecting your computer from malware. This all in one package seems almost too good to be true, because it is. This application is known to be developed by cyber criminals who seek monetary gain by tricking you into thinking that the app is legitimate. Therefore, we are of the opinion that you should remove it as soon as you can.
A1PCCleaner attempts to disguise itself as a legitimate program that features a lot of useful functions meant to keep your computer safe. It claims to perform functions such as diagnosing and repairing various issues, cleaning junk files, enhancing security, detecting malware, monitoring system resources, fixing registry issues, optimizing system performance, and so on. However, it does not perform any of the aforementioned functions and here's why.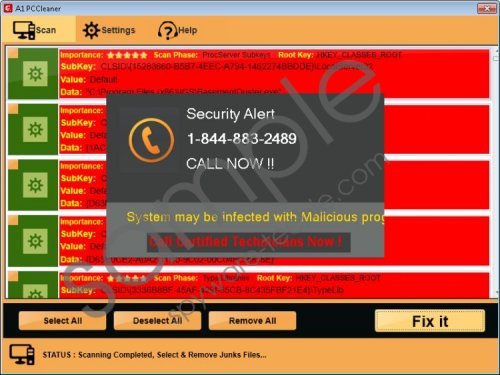 A1PCCleaner screenshot
Scroll down for full removal instructions
After infecting your computer, A1PCCleaner will perform a bogus system security scan. Its results will show that your computer may be infected with malicious applications, and recommends calling their technicians. Obviously, no legitimate security scanner would ever offer you to call some sort of "technician." Our researchers have determined that the displayed phone number is used by cyber criminals that will attempt to scam you, so you should definitely remove A1PCCleaner without hesitating.
These cyber criminals went as far as to create a dedicated website for the PUP. The website features a download button that offers you to download the infection free of charge. However, we recommend that you decline the offer. At any rate, at least for the time being, the download button does not work so you won't get infected via the website.
However, our researchers have found that A1PCCleaner is being bundled with legitimate applications usually found on freeware distribution websites such as Cnet.com, Brothersoft.com, and so on. So, you should avoid downloading any unknown freeware bundles from unreliable sources. However, if you insist on installing a freeware bundle, make sure to opt for custom installation in order to remove A1PCCleaner from the installation process.
In conclusion, you should definitely remove A1PCCleaner from your computer as it doesn't do the functions it claims to do. The application performs a fake system scan that shows that your PC is infected. Then the app offers you to call a certain phone number to get in contact with their "technicians." We warn you that you could be scammed by whoever is at the other end of the line, so we recommend that you remove A1PCCleaner as soon as you can.
How to remove A1PCCleaner
Windows 8/8.1
Open the Start Screen.
Type Uninstall in the search box and then go to Settings.
In the search results, click Uninstall a program.
Locate A1PCCleaner.
Click Uninstall.
Windows 7/Vista
Click Start.
Select Control Panel.
Click Uninstall a program.
Locate A1PCCleaner.
Click Uninstall.
Windows XP
Open the Start menu.
Click Control Panel.
Select Add or Remove Programs.
Locate A1PCCleaner.
Click Uninstall.
In non-techie terms:
A1PCCleaner is a potentially unwanted program that disguises itself as legitimate system optimization tool. It claims to fix system errors and protect your computer from malicious applications. However, it does no such thing. All A1PCCleaner does is performs a fake security scan that shows bogus results. The app tries to trick the user into dialing a phone number known to be used by scammers. So please, do not hesitate and remove A1PCCleaner immediately.